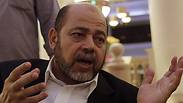 Moussa Abu Marzouk
Photo: Reuters
Hamas and Iran have repaired a close political and military relationship frayed by the Syrian civil war, the Palestinian Islamist group's deputy leader said on Wednesday.

Patching up ties with Tehran could ease Hamas's financial and political isolation. Israel is blockading the Gaza Strip, while Egypt, battling Islamist militants in neighboring Sinai, has largely kept its Gaza frontier closed.

Speaking in his Gaza office, overlooking the Mediterranean, Moussa Abu Marzouk said: "I believe that bilateral relations between us and the Islamic Republic of Iran are back on track."

He also told Reuters that Hamas, the dominant armed movement in the Gaza Strip, was not seeking a new war with Israel and wanted to see the enclave rebuilt after a devastating 50-day conflict in July and August.

Related stories:

The news came as the European Union's second highest court annulled on Wednesday the bloc's decision to keep Hamas on a list of terrorist organizations, but temporarily maintained the measures for a period of three months or until an appeal was closed.

Last week, a Hamas delegation visited Iran, long a major supplier of military and financial aid to the group. Hamas has been hostile toward Syrian President Bashar al-Assad, who is backed by Tehran in the three-year-old Syrian war.

In a sign that weapons supplies from Iran may have slowed, Hamas used mostly locally-made long-range rockets to attack Israeli cities in the conflict five months ago. It launched Iranian-produced rockets in similar strikes in 2012.

"There are many indications that ... relations have been resumed in the proper way, as in the past," Abu Marzouk said, without elaborating.

Turning to reconstruction in Gaza, where tens of thousands of homes were damaged or destroyed in the summer fighting, he said Hamas would remain committed to an Egyptian-brokered truce that ended the war as long as Israel abided by it.

"We are keen to see all building materials reach people who need them and those whose houses were destroyed. It is in our interest that the circumstances that produced the war do not return," he said.

On Sunday, a spokesman for Hamas's armed wing cautioned there could be a "new explosion" with Israel unless reconstruction was speeded up. More than 2,100 Palestinians, mostly civilians, were killed in the Gaza war, local officials said. Israel put its death toll at 67 soldiers and six civilians.

Abu Marzouk said only $150 million out of $2.7 billion pledged internationally for reconstruction had materialized.