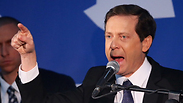 Herzog revamps his image prior to elections.
Photo: Motti Kimchi
Glasses or no glasses? True, we're not talking about dividing Jerusalem or a proposed substitute for the zero-VAT law, but it is an issue that Labor Party Chairman Isaac (Buji) Herzog's advisors are currently pondering over.
I took a chance and advised Herzog to stick with the glasses – because they add a touch of maturity and seriousness to his baby face. He sighed – not because he was agitated or fed up, but out of acceptance, explaining that Israel's citizens have been sending him more and more fashion tips ever since early elections were announced.
"Everyone is full of ideas," Herzog says. "I receive dozens of emails, calls and text messages with suggestions for improvements every day."
And ever since he began working towards forming an alliance with Tzipi Livni, Herzog has also been getting suggestions for the name of the joint Knesset list.
"I encounter it all the time, the interest, the sense that something is happening," he says. "I feel it on the street; but I sensed it also in my last address in the plenum, when I introduced the bill to disband the Knesset. There was something about (Benjamin) Netanyahu's body language that showed he understood something was happening.
"My chief of staff, Eyal Shviki, was in a taxi this week. The driver, who didn't know who he was, said that the drivers at the cab station were conducting a survey among their passengers on who they're voting for.
Eyal said he would respond only after the driver told him who he was voting for. The driver said to him: 'What can I say, there's a sense that a change is coming, that Buji will be the next prime minister. Eyal started laughing and told him he was one of my close aides."
The active interest the public is displaying in the comings and goings of the party chairman with the soft, polite and (yes, you simply can't get around it) nerdy image, is part of a new phenomenon, still in its infancy – the undeniable buzz around Herzog.
"After the photograph of us in the lounge at the airport, the public started to sit up and take notice of me," Herzog proudly says, referring to the picture in which he can be seen standing alongside Livni on their way to the Saban Forum, the place where their budding political romance first came to light. "This buzz is part of a comprehensive move to affect change in the country."
But the move is not aimed only at affecting change in the country, but also a change in Herzog himself.
The handful of surveys conducted in recent months, before the announcement about the elections, were not very flattering for Labor and its leader. At the time, the party decided to launch a campaign against Netanyahu's proposed state budget, with no one thinking then that it would become the start of a campaign for the premiership.
To wage war on the budget, Labor took on the services of the Peer-Levin strategic consulting firm, headed by Memi Peer and Eitan Levin, who decided at the same time that Buji, too, needs to be repositioned.
And this is where his image makeover received its big boost – no more nice guy, and instead the wild boy who doesn't pull his punches in his attacks against the prime minister.
The slogan chosen for the campaign was: Israel is stuck with Bibi.
Herzog upped the tone of his Knesset addresses, and spoke firmly, not to say aggressively, against Netanyahu.
He and his advisors knew they were on the right track when MKs Miri Regev, Yariv Levin, Ofir Akunis and Ze'ev Elkin began harassing Herzog during his speeches. Their heckling signaled the start of the revolution. And with the yelling of the angry Likud parliamentarians came an improvement in the polls at the same time.
The question: "What's come over Buji?" became commonplace among political circles and on the street.
The social networks wrote, "Cute as a button, but can bite too."
To cut a long story short, they removed the Buji, and kept the Herzog. His media advisers now require journalists not to address him by the nickname, Buji. From now on, his name is Isaac Herzog only.
"Herzog will remain Buji only for his wife, Michal," his associates say.
The Energizer bares its claws
Herzog conducts most of his political meetings these days at a café near his home. On Wednesday afternoon last week, people approached him, congratulated him, shook his hand, and offered advice. And he, in a light blue shirt and rimless glasses, responded patiently to one and all.
He checked to make sure his assistant had given some money to a beggar who walked by and stretched out her hand; and he met with Haim Yellin, the head of the Eshkol Regional Council who really wants to be an MK but doesn't want to vie for a Knesset place in the party primaries (who in the meantime has joined Yair Lapid's Yesh Atid).
Behind his back, Herzog's aides call him "The Energizer."
His daily agenda begins at dawn and ends well after midnight. Just a few days earlier, after a series of meetings, he went, accompanied by bodyguards, to have lunch at home with his wife. From there, he was off to meet Livni for final discussions and the signing of their agreement. Thereafter, they went to a hall at Hayarkon Park.
"I managed to get to her because I know how to work with people, to connect them, primarily because I come with a positive outlook rather than a negative one," he said at the end of the negotiations. "In general, I propose something fair and not arrogant. That's why people think I'm a nerd. But make no mistake: When needed, I bare my claws."
When people say it doesn't really show from the negotiations he held with Livni and his agreement to share the premiership with her, he shrugs his shoulders. "I place the good of the country above my own personal good," Herzog says.
And to those who criticize the alliance and say the same penchant for making concessions will influence the talks with the Palestinians if Herzog is prime minister, he says: "There's a difference between concessions one makes for the sake of one's home and concessions one makes to safeguard one's home. When I conducted the negotiations with Tzipi, I realized what was hurting her and offered a response in the form of the rotation. I knew I'd be slammed and people would say I'm a wet rag; so let them."
According to his chief of staff, Shviki, who has been at Herzog's side for the past eight years and is believed to be his closest confidante, "This need – to expand the party's sphere of influence and spread its wings – intensified in Herzog, especially in the wake of Operation Protective Edge. Herzog realized that the people were veering to the right and there was a need to address the issue, and that running alone may not be enough to reverse the trend. The public sees the alliance as a move that spells leadership, a change in concept. This union will widen the scope of people who will vote for Labor."
With Livni on board, Labor is no longer a center-left party and is now a center-center one. Herzog, however, is not hung up on definitions. "I have an aversion to tags of left or center," he says. "It's no secret that the political issue is very important to me, and all my voters know that; but I emphasized the issue of social justice in my unity speech because that is where my and my movement's soul lies. However you look at it, Labor was and remains a center party. When I form a government, there'll be (Avigdor) Lieberman on the right and Meretz on the left and the Arab parties from the outside."
Superhero, boxer and Moses
Herzog's headquarters will spend the coming days formulating a strategy for the coming three months before the elections. Herzog wants to present the public with plans that don't only attack Netanyahu, but also express what he intends to do as prime minister.
Housing is the first issue on his agenda. The bill has already been prepared, and it speaks of reducing the cost of state-owned land. Housing prices, his aides say, will fall within six months.
All of Herzog's staffers agree that raising the tone on the economic issue increased the buzz around Herzog – and the union with Livni has kicked in now too. A number of recent surveys have even given the alliance 23 Knesset seats, as opposed to the Likud's 20. And although it remains to be seen exactly how the left and right blocs eventually form, the Labor chairman can already picture the possibility that the president will entrust him with the task of forming the next government – and that's quite something.
Herzog's advisors, too, are happy with the dowry Livni brings to the campaign. With the addition of Hatnua's six Knesset seats, the unified list will be eligible for a campaign budget of close to NIS 30 million. Herzog meanwhile has issued strict instructions not to spend more than is in the kitty so as not to incur further debt for the party.
In an effort to drum up support among young voters, a significant portion of this budget will be devoted to new media. Already now, Herzog has three or four people working on his Facebook page, following every small comment on the network, responding when necessary, and promoting successful posts whenever required.
The Labor leader's media team is well aware of the fact that much of the buzz that surrounds Herzog right now can be attributed to the social networks.
Several new pages starring Herzog have been opened recently on Facebook, and they are accumulating more and more Likes by the day. One of these pages is called Don't Mess with the Buji and features Herzog as a superhero, a boxer and even Moses.
In contrast, on another page, Buji Does Cute Things, Herzog is depicted as a sweet baby, a flowerchild and a likeable penguin. "He has the charisma of a mosquito, the voice of a squirrel that's been run over, and the presence of an ear bud – but he's cute," the page admins sympathetically point out.
Thus far, Herzog's official Facebook page has amassed around 44,000 Likes – not all that much compared to other politicians such as Yair Lapid (361,000) or Naftali Bennett (367,987).
The Labor leader's advisory team, however, appears satisfied for now. "We are in an age in which everyone has a Facebook page and it's his little laboratory where he expresses his opinions," Shviki says.
"The fact that he's getting comments, from all sides, is evidence that Herzog's candidacy is perceived as strong. Even the page, Buji Does Cute Things, is sweet and harmless and is testimony to the fact, in particular, that people are talking about him, noticing him."
Maintain the momentum
Now, after the unification, the team that started with the fight over the budget and suddenly found itself involved in an election campaign will have to deal with the tough questions: Where do we go from here? How do we maintain the momentum?
The answers, for now, remain unclear, and depend more on the response to the developments rather than new initiatives. "An election campaign is a dynamic system," Herzog's advisors say. "There may be additional alliances; Shaul Mofaz may join; and the primaries are coming up, and those are always crazy."
Herzog, too, is not concerned about a waning in support on the way to the polls. "We couldn't have held off with the unification and kept it for further down the road," he says. "We're a democratic party with election processes. We had to create the union now and give everyone enough time to get organized. I am sure, too, that other people will join over in the near future and we will maintain the momentum."
And the momentum includes the continuation of the image transformation – not an extreme makeover, but more like some light touches of paint and bodywork – to highlight the advantages and cover up the weaknesses.
Herzog's advisory team has already hired the services of a voice coach, and the party leader is also receiving instruction on how to appear in front of the cameras. He doesn't have a stylist yet, but one will be hired without hesitation if required.
"It's no secret that I have a problem with my vocal cords," Herzog admits when asked about the adolescent-like voice with which he is so identified. "I am being treated by a specialist who is helping me with voice training and teaching me how not to press on what helps me in developing a sound and learning how not to stress the vocal chords so as to avoid hoarseness."
With his new-found forcefulness, Herzog rejects the media's preoccupation with the cosmetic issue: "People are coming to me and asking me to replace the prime minister," he says. "I believe we can bring about a change, but people should know that this is not a reality show. Leading a country is something serious. I am not jumping the gun and celebrating just yet. My teacher from first to third grade was the daughter of David Ben-Gurion, Geula Ben-Eliezer. She taught me the phrase, 'Don't count your chickens before they've hatched.' I always keep this sentence in mind. The public is hungry for change, and I'm here to try to affect it."