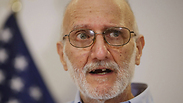 American Alan Gross emerged Wednesday from five years of captivity in Cuba praising the Cuban people and offering a lesson he said he learned: Freedom is not free.

"It's good to be home," Gross said at a news conference in Washington D.C. "It's the best Hanukkah I'll be celebrating in a long time," he said with reports claiming he even enjoyed latkes and applesauce on the flight home.

In his first public remarks after arriving in the US, Gross also spoke supportively of President Barack Obama's move to restore diplomatic relations with Cuba after more than a half-century of discord. Calling the shift "game-changing," Gross said that more than five decades of history had shown that the previous US approach to its old foe wasn't effective.

"Two wrongs never make a right," Gross said. "I truly hope that we can now get beyond these mutually belligerent policies."

Appearing in decent health and walking without support, Gross spoke to reporters at a Washington law office shortly after a US plane flew him from Cuba back to the US. He flashed a broad grin with missing teeth - lost during his imprisonment -- after taking an admiring glance at the American flags posted behind him and taking note that his release came on the first day of Hanukkah.

Despite his harrowing experience, Gross said he had the utmost respect for the Cuban people and said he was pained "to see them treated so unjustly."

"In no way are they responsible for the ordeal to which my family and I have been subjected," Gross said, describing the vast majority of Cubans as "incredibly kind, generous and talented."

Video: Reuters (צילום: רויטרס)

Gross, 65, was freed from prison Wednesday as part of an agreement that included the release of three Cubans jailed in the United States, officials said. Upon arriving at Andrews Air Force Base, Gross was welcomed by US lawmakers and met with Secretary of State John Kerry, who had just returned from Europe.

Gross described sitting next to Kerry as the two watched President Barack Obama on television talk about the work that Kerry will undertake as the US restores relations - such as the establishment of a US Embassy in Havana and a reconsideration of Cuba's inclusion on a US list of state sponsors of terrorism.

Speaking alongside his wife, Gross also appealed for "complete and total privacy" as he recovers from his time imprisoned.

Before his release, Gross' family members said that he never grew angry at the Cuban people during his five years in prison. He watched Cuban baseball and even jammed with his jailors on a stringed instrument they gave him. He kept in touch with family through weekly phone calls and passed the time reading books and magazines sent by his wife. The Economist, The Atlantic and Washingtonian magazine were favorites.

On Friday nights, Gross, who is Jewish, would take out a picture of a group of friends celebrating the Jewish sabbath, and he would say the prayers they used to say together.

While in Cuban custody, Gross lost more than 100 pounds 45 kilograms), developed problems with his hips and lost most of the vision in his right eye. In April 2014, after an AP story revealed that USAID secretly created a "Cuban Twitter" communications network to stir unrest on the island shortly after Gross was arrested, he went on a hunger strike for more than a week.

His mother, who was in her 90s, persuaded him to start eating again. But she died in June 2014. Despite pleas from his family, Gross was not allowed to return to the United States for her funeral. After her death, he became withdrawn.

His wife and youngest of two daughters visited him in prison earlier in the year and he said goodbye.