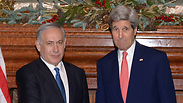 Benjamin Netanyahu with John Kerry
Photo: Amos Ben Gershom, GPO
Jordan formally submitted to the United Nations Security Council on Wednesday night a draft resolution calling for peace between Israel and the Palestinians within one year and an end to Israel's "occupation" of the West Bank by the end of 2017. Palestinians, however, sought to avoid a clash with the United States by saying they were open to negotiations on the text.

The Palestinian-drafted resolution was formally submitted to the 15-member council, which means it could be put to a vote as soon as 24 hours later, but it does not guarantee it will happen. Some drafts formally submitted have never been voted.

Diplomats say negotiations on the text could take days or weeks. Jordan's UN envoy Dina Kawar said she hoped the council could reach a unanimous decision on the resolution.

An earlier Palestinian draft informally circulated to the council in October called for an "end to Israeli occupation of Palestinian territory" by November 2016, but the United States and others found this text unacceptable.

Nine votes are needed to adopt a resolution, which would then force the United States, a close ally of Israel, to decide whether to veto it. US Secretary of State John Kerry said on Tuesday the United States had made "no determinations about language, approaches, specific resolutions, any of that."

France, Britain and Germany are also drafting a resolution, which French Foreign Minister Laurent Fabius said would propose concluding peace talks in two years. Other parameters for ending the conflict would also be set, diplomats said. The submitted Palestinian draft appears to reflect some European ideas.
Not pushing for quick vote
Palestinians seek statehood in the West Bank and blockaded Gaza Strip, with East Jerusalem as their capital - lands captured by Israel in the 1967 Six-Day War.

The draft resolution submitted on Wednesday states that a negotiated solution should be based on several parameters including the 1967 borders, security agreements, and "Jerusalem as the shared capital of the two States which fulfills the legitimate aspirations of both parties and protects freedom of worship."

The text also "calls upon both parties to abstain from any unilateral and illegal actions, including settlement activities, that could undermine the viability of a two-state solution."

The draft resolution obtained by AFP would set a 12-month deadline for wrapping up negotiations on a final settlement and the end of 2017 as the time frame for completing an Israeli withdrawal from territories Palestinian want for their future state.

The draft resolution calls for a "just, lasting and comprehensive peace solution that brings an end to the Israeli occupation" and "fulfills the vision" of a Palestinian state with Jerusalem as the shared capital.

In a shift, Palestinian envoy Riyad Mansour indicated he would not press for a quick vote on the text to allow for more discussion, a move seen as opening the door to possible US engagement at the United Nations on the initiative.

"We will continue negotiating with all of them and with the Americans if they are ready and willing so that we perhaps can succeed in having something adopted by the Security Council to open a serious door to peace," the envoy said.

The Palestinians had earlier said they wanted a quick vote but they backed away, apparently under pressure from Arab countries including Jordan, which is seeking a draft that will be acceptable to the United States.

Israel accepts the "two-state solution" of an independent and democratic Palestinian state alongside Israel, but has not accepted the 1967 borders as the basis for final negotiations, citing security and other concerns.
'Don't make situation worse'
The US administration opposes moves to bind negotiators' hands through a UN resolution - particularly any attempt to set a deadline for the withdrawal of Israeli troops from the West Bank.
US Secretary of State John Kerry said the Palestinian resolution would not present a problem if it can avoid exacerbating tensions in the region.
"We don't have any problem with them filing some resolution, providing it's done in the spirit of working with people to see how we could proceed forward in a thoughtful way that solves the problem, doesn't make it worse," Kerry told reporters.
"We want to find the most constructive way of doing something that therefore will not have unintended consequences, but also can stem the violence," Kerry said Tuesday. He said the situation marks "a particularly sensitive moment" given rising tensions between Israel and Palestinians.
The United States had refused to say whether it would veto the Palestinian draft, arguing that it had yet to examine the text.
The United States was concerned that a UN resolution could play into the hands of Israeli hardliners as the country heads toward elections in March and suggested it could be delayed.
A US veto risks angering key Arab allies, including partners in the US-led coalition carrying out air strikes against the Islamic State jihadist group in Syria and Iraq.
Prime Minister Benjamin Netanyahu said on Monday that he had sought reassurances from Kerry that Washington would block efforts to adopt UN Security Council resolution.
Keen to head off a diplomatic crisis, Kerry held a flurry of meetings this week with Netanyahu, Palestinian negotiators and European ministers.
Kerry met with Saeb Erekat, the chief Palestinian negotiator, on Tuesday. Kerry said then that he opposed the Palestinian draft approved by the Arab League, and reportedly announced that the US would exercise a veto.
Back-to-back diplomatic blows
Israel suffered back-to-back diplomatic setbacks in Europe on Wednesday. In Geneva, the international community delivered a stinging rebuke to Israel's settlement construction in the West Bank and East Jerusalem, saying the practice violates Israel's responsibilities as an occupying power.
The declaration adopted by the conference of the Fourth Geneva Convention, which governs the rules of war and military occupation, emphasized a prohibition on colonizing occupied land and insisted that international humanitarian law be obeyed in areas affected by the conflict between Israel and Palestinians. It called for "all serious violations" to be investigated and those responsible for breaches to be brought to justice.
"This is a signal and we can hope that words count," said Swiss ambassador Paul Fivat, who chaired the one-day meeting. The US and Israel did not take part.
Israel's UN Mission blasted the gathering, saying: "It confers legitimacy on terrorist organizations and dictatorial regimes wherever they are, while condemning a democratic country fighting terrorism in accordance with international law."
In Luxembourg, meanwhile, a European Union court ordered the Palestinian group Hamas removed from the EU terrorist list for procedural reasons but said the 28-nation bloc can maintain asset freezes against Hamas members for now.
The Islamic militant group, which calls for the destruction of Israel, hailed the decision, but Netanyahu expressed outrage.
"It seems that too many in Europe, on whose soil 6 million Jews were slaughtered, have learned nothing," Netanyahu said, adding that Israel would continue to defend itself "against the forces of terror and tyranny and hypocrisy."
The EU court ruled that the terrorist listing of Hamas was based on press and Internet reports and not on "acts examined and confirmed in decisions of competent authorities."
The EU, which has two months to appeal, was considering its next step.
In Washington, State Department spokeswoman Jen Psaki said the Obama administration is studying the EU's court decision but the US continues to consider Hamas as a terrorist organization.
The latest round of Israeli-Palestinian peace talks, shepherded by Kerry, collapsed in April amid mutual recriminations.
This summer's 50-day war in Gaza followed, and tensions have boiled over in the West Bank and East Jerusalem with a series of deadly attacks on Israelis and frequent clashes between security forces and stone-throwing Palestinians.
Frustration with the stalled peace process has also grown in Europe, where lawmakers in Britain, France and Spain have all called in recent weeks for the recognition of a Palestinian state.
The Palestinians pushed for action at the United Nations as the European parliament overwhelmingly backed recognition of a Palestinian state, the latest assembly in Europe to adopt a motion to that end.
Reuters, AFP and the Associated Press contributed to this report.