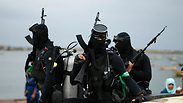 Hamas Gaza rally
Photo: Reuters
After increasing rocket testing, holding a military rally during which they launched a drone and leaked classified IDF investigations information online, Hamas held a large-scale training session in the Gaza Strip overnight Wednesday.

The Hamas military drills were held at a training center in Gaza that is located on the ruins of evacuated Israeli settlement Dugit.

Residents of Israeli communities north of the Strip heard explosions and heavy machine-gun fire from midnight to the early morning hours Thursday. This is the first time Hamas is holding a training session of this caliber in the late hours of the night.

Hamas fighters also trained in the south of the Strip. Palestinian sources reported one person was killed and five others injured in an explosion that occurred at a Hamas training base west of Rafah.

"We heard crazy bursts of gunfire and explosions," one of the residents of the Gaza border communities said. "It's not the first time we hear them training, but this time it was much more intense. Judging by the noise, they were firing bursts from heavy weaponry. It was really close. I woke up several times because of it. It felt like they were training just under our homes."

Residents of the Gaza border communities are concerned over Hamas' increased military activity recently - the late-night training sessions, rocket firing towards the sea for testing, and the big military rally held earlier this week.

"They are starting to regain their strength after Operation Protective Edge and that's very concerning. On the one hand, I have a hard time understanding how we allow them to do such things, and on the other hand I ask myself if we could even prevent it. It's a very serious problem that has no clear solution. The only thing that's clear is that the next round of fighting is already around the corner," he said.

Earlier this week, Hamas held a massive military rally in the Gaza Strip to celebrate 27 years to its establishment. The rally included different units from Hamas' military wing, the Izz ad-Din al-Qassam Brigafes, including the rocket unit and the naval commandos. Different weaponry was on display, including rockets, missiles and even a drone. Following the appearance of the drone, the IAF raised the level of alert in the area.

As part of its propaganda, Hamas released a video showing a shadowed figure which they claim is Mohammed Deif, the head of the military wing - but he is unidentifiable. Deif's speech from the days of the operation was played in the video.