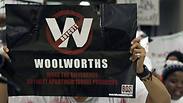 Pro-Palestinian protesters in South Africa supermarket
Photo: AFP
WEST BANK – A Palestinian official has admitted that the Palestinian boycott of goods made in Israel is faltering, both because of a lack of substitutes of Israeli products, and the dissipation of some of the anger toward Israel over last summer's fighting with Hamas in the Gaza Strip that left more than 2,200 Palestinians dead.
The boycott is part of the Boycott, Divestment, and Sanctions (BDS) Movement, which aims to make Israel pay an economic price for its continued control of the West Bank and East Jerusalem and its blockade of the Gaza Strip.
"There has been a decline in the boycott on some items – most of the Israeli food products are still being boycotted, but the main problem is fruits and vegetables," PLO Executive Committee member and BDS advocate Mustafa Bargouti told The Media Line. "The boycott reached its peak during the war," he added.
An Israeli government official who spoke on the condition of anonymity confirmed that the Palestinian boycott was having an effect on his country last summer.
"There were some days in specific areas where Israeli products were not purchased. These cases during Operation Protective Edge were caused and motivated by Palestinian business entities that had an economic interest in reducing the volume of the import from Israel," the official told The Media Line.
At the same time, Coordination for Government Activities in the Territories (COGAT) has told The Media Line that following the Israeli-Hamas conflict, the numbers of trucks carrying Israeli products that entered the West Bank this year, 22,810 were fewer than in 2013 when the total reached 23,945.
This could be the reason why Bargouti, also the President of the Palestinian National Initiative (Al Mubadara), still classifies the boycott as "successful."
However, the Israeli government official denied that the Palestinian boycott is having a real effect on the Israeli economy.
"The export of Israeli products to the Palestinian Authority areas continues normally," he said.
Palestinian economists say it is hard to find accurate statistics on how much Israel has been affected by the Palestinian boycott, but they agree that enthusiasm for boycotting Israeli goods is declining on the Palestinian street.
"If the boycott of Israeli goods reached its peak during the war on Gaza, and was at 80 percent, now it is no more than 20-30 percent," Birzeit University professor Nasr Abdelkarim told The Media Line.
He said items such as water, gas, oil, electricity, were impossible to boycott. Total imports from Israel are $4.5 billion annually. He says $3.5 billion are things like electricity and water that the Palestinians do not have the resources to produce themselves, leaving $1 billion of goods that could be boycotted.
"There were really no numbers in the beginning of how many people were boycotting," Palestinian economist Jafar Sadaqa told The Media Line. He says the increase in West Bank residents using non-Israeli products was a reaction to what Palestinians see as Israeli aggression in Gaza rather than a "nationalistic decision."
"From what I hear or see on the streets, the boycott campaign has lessened and regrettably the fear is that this was temporary due to the anger over Gaza," he told The Media Line.
Palestinian journalist Mohamed Abu Resh says that this past Ramadan - the month-long Palestinian month of prayer and fasting, which often includes parties and feasting at night - was the most serious the boycott has ever been. Palestinians boycott Israeli goods as "a type of struggle against fighting the presence of the Israeli occupation," he added.
Abu Resh says he thinks the boycott would have continued with full force had Palestinians been "consistent" in purchasing only goods manufactured in the Palestinian territories.
Omar Salah, who runs Abu Rami Stores in the West Bank village of Abu Dis, says his customers are still supporting the boycott, although they do not talk about it as much. "Today, the Israeli product has lost its credibility among the Palestinian consumer," he told The Media Line.
He says Palestinians come in seeking alternatives from countries such as Turkey, Saudi Arabia and Jordan. Salah, better known by his nickname "Abu Rami," points to Israeli made Ketchup bottles sitting on the counter. "See those? I took those off the shelves today because they expired," he said. He says he orders what the customer wants.
"Monthly, I used to get ten boxes of Osem pretzels, now I just get two boxes," he said pointing to the shelf that contains the Israeli snack.
When Salam Fayyad was the Palestinian Prime Minister, his government launched a campaign against "products from Israeli settlements only and not on all Israeli products manufactured inside Israel." That boycott has since been extended, at least unofficially, to all Israeli products, without differentiating where they were made.
Salah says it's not possible to do a complete boycott of Israeli goods. As an example, he says Palestinians have been unable to make a substitute for sugar free products.
During the Israel-Hamas fighting in Gaza, Ramallah resident Ibtisam Basim would go door to door asking residents to open their refrigerator and kitchen cabinets. If she found Israeli products, she would ask them to use Palestinian products.
"We always talked about boycotting but no one really took it serious until the Gaza massacre happened and people really boycotted and were happy to do so," Basim told The Media Line. Four months later, she does not go house to house anymore but says her family is supporting the boycott of all Israeli products.
"I shouldn't preach that everyone should boycott but I do admit it's much harder for people living in the occupied Palestinian territories," she said.
Bargouti agrees.
"It's easier for outside countries to do so because they control their own market and because they have alternative sources. Here there are no substitutes," he said.
Abdelkarim also says the momentum of international boycotts is growing.
Last month, the Leicester city council in England decided to boycott goods that came from Israeli factories in the West Bank because it "condemns the Government of Israel for its continuing illegal occupation of Palestine's East Jerusalem and the West Bank" and resolves "to boycott any produce originating from illegal Israeli settlements." Other European countries such as France and Spain are joining the BDS movements.
While Sadaqa says it's "hard" to say how much the boycott even affected Israel, Foreign Ministry Spokesman Emmanuel Nahshon says Israel was never in danger.
"We were not facing a situation where we felt threatened because the whole thing is illegitimate, extremist and anti-democratic," he told The Media Line.
But businesses were affected. Soda Stream, an Israeli company that makes and sells seltzer machines for home use, re-located its factory from the West Bank to Israel due to the numerous calls to ban it. It also means that hundreds of Palestinian employees could lose their jobs.
Nahshon says the boycott was "doomed to fail" and never stood a chance. Calling it "useless", he says cutting Israeli products "only incites hatred."
But Palestinian journalist Mohamed Abu Resh says when a peace deal is eventually struck between Palestinians and Israelis, a boycott will not be necessary.
"There will be two states where the borders will be clear, where both sides enjoy importing and exporting and where there will be justice. People would be racist to boycott Israel then," he said.
Article written by Abdullah H. Erakat.
Reprinted with permission from The Media Line