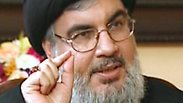 Hassan Nasrallah
Photo: AFP
The purported Mossad agent recently caught by Hezbollah was named Thursday as Mohammed Shurba from the Natbiyeh area in south Lebanon by an al-Jazeera reporter.
Sources told the network he was arrested last month and had acted as the chief of the unit in charge of foreign operations. He was promoted to the position in 2008, after the assassination of Imad Mughniyah, then head of Hezbollah's operations unit, in Damascus, which Hezbollah blamed on Israel.


According to the report, which has not been substantiated by additional sources, the investigation of Shurba revealed that he initiated contact with Mossad and offered his cooperation. Shurba allegedly provided valuable information on all of Hezbollah's foreign activities to Israeli intelligence over a period of years.
The report repeated assertions that his information helped capture a large number of the group's operatives in several countries, most recently in Peru.
Hezbollah announced the discovery of the alleged spy on Tuesday, although the arrest apparently came weeks ago.
Shurba was purpotedly entrusted with a wide range of responsibilities, Kuwaiti newspaper Al Rai said Wednesday – at one point even overseeing Secretary General Hassan Nasrallah's security detail.
Hezbollah ousted senior members following the discovery, said the newspaper, and boasted that they were "rid of the bacteria" after the arrest.
The Lebanese news site Elnashra said Shurba worked as a businessman and "frequently travelled abroad for work."