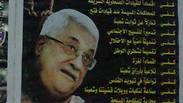 Abbas 'hanged' in posters
Palestinian President Mahmoud Abbas is currently fighting not one but two internal battles - the one against the rival Hamas movement in Gaza with the attempts to reunite the West Bank and the Strip, and the other inside his own Fatah movement against rival Mohammed Dahlan, a former Fatah strongman in Gaza whom Abbas fired in a power struggle.

Palestinian media reported on Thursday that Dahlan has asked his supporters in the Gaza Strip to intensify their campaign against Abbas, asking them to organize marches and rallies against the Palestinian Authority leader.

On Thursday, Dahlan protesters demonstrated at the Square of the Unknown Soldier in Gaza City, carrying pro-Dahlan posters and lambasting Abbas for alleged corruption and supposed servility in the face of the continuing Israeli presence in the West Bank.

The rally was approved by Gaza's militant Hamas group - a rival of Fatah - in an apparent effort to keep up the pressure on Abbas in the coastal territory.

Posters depicting Abbas hanged appeared in Gaza streets on Thursday morning, dubbing him a "traitor" and saying that now is the time to fight the "corruption and tyranny" of Abbas and his allies.

Fatah expelled Dahlan in June 2011 after Abbas accused him of poisoning Yasser Arafat, the founder of the Palestinian political movement.

Though Dahlan and Abbas share a political agenda, which is based on political negotiations and security coordination with the Israelis, past attempts to reconcile the politicians failed.

On numerous occasions, Fatah has accused Dahlan of orchestrating a coup, and Ahmad Assaf, the party's chief spokesperson, says he used his position in power for personal gains, namely enriching himself. Therichest.com, a website that catalogues the financial assets of public figures, lists Dahlan's net worth as $120 million.

Ynetnews and The Media Line contributed to this report.