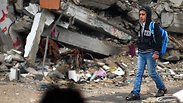 Destruction in Gaza
Photo: Reuters.
The UN warned Thursday it was running out of funds to house families in Gaza, as it doubled its estimate of the number of homes damaged or destroyed in this summer's war with Israel.

"Unless the situation changes urgently, we will run out of funds in January, meaning we will not be able to provide rental subsidies to many affected families nor provide the support required to carry out repairs," said Robert Turner, the operations director for the UNRWA Palestinian refugee agency.

He said more than 96,000 homes were damaged or destroyed in the 50-day war, more than twice the UN's original estimate.


Based on satellite imagery and preliminary field work immediately after the war, "we estimated about 42,000 refugee family shelters had been affected by the war," he said.

"We now know that over 96,000 homes were damaged or destroyed."

Turner said more than 7,000 homes were completely lost, affecting some 10,000 families. An additional 89,000 homes were damaged, about 10,000 of them severely.





UNRWA has estimated $720 million (585 million euros) will be needed to provide rental subsidies to families with no alternative shelter, to rebuild destroyed homes and repair damaged ones.

However, only some $100 million has been pledged.




Without additional funds, "tens of thousands of refugee families will find themselves with inadequate shelter and no support during the hardest months of winter," Turner said.

The conflict between Israel and Hamas-led Gaza militants, which ended on August 26, killed nearly 2,200 Palestinians, most of them civilians, and 73 people on the Israeli side, mostly soldiers.