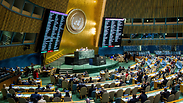 UN General Assembly
Photo: AP
Prime Minister Benjamin Netanyahu said Thursday Israel would never accept the "unilateral" recognition of a Palestinian state, after a draft resolution calling for a final peace deal was submitted to the UN.

In a statement from his office, Netanyahu accused Palestinian president Mahmud Abbas of "thinking he can threaten us by taking unilateral steps" over statehood.

"He doesn't understand that his authority in the West Bank will be overturned by Hamas like it was in Gaza," the Israeli premier added. "We will never accept unilateral diktats," Netanyahu stressed.

The Palestinian draft resolution, submitted on Wednesday to the UN in New York, sets a 12-month deadline for wrapping up negotiations on a final settlement and the end of 2017 as the timeframe for completing an Israeli withdrawal from Palestinian territories.

A final peace deal would pave the way to the creation of a Palestinian state with Jerusalem as a shared capital, according to the text. Israeli Foreign Minister Avigdor Leiberman also played down the chances of the Palestinians' UN bid achieving a breakthrough.

"Without Israel's agreement nothing will change," he said in a statement.

"The UN Security Council would do better to deal with the issues truly important to the safety and security of the citizens of the world... and not waste time on Palestinian gimmicks," Leiberman said.