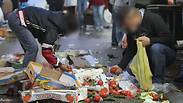 Mahane Yehuda market, before Shabbat
Photo: Ido Erez
On Fridays at Jerusalem's Mahane Yehuda market, about an hour before Shabbat begins, merchants begin to close their stalls while a group of some 20 people gather with bags and baby strollers, ready to rummage through fruits and vegetables left in cartons and pick up produce left on the floor. Most are elderly, some even very old, but a number of young people with ashamed looks on their faces are also among the group.

While picking up the food, they keep their heads down and say little to those around them. "Lately, more and more needy people come here at the end of the day," says Yosi Eini, a vegetable stall owner at the market, who has been observing the phenomenon for years. "They are embarrassed – some very embarrassed – that's why they come here at the end of the day, when there are less people and less of a chance that they'll be recognized.
A group of several people gather near one of the stalls, where a discarded carton of partially rotten strawberries and bananas is placed on the floor.
"There were always these kind of people here," Eini continues, "but today there are more. Some of the elderly people are regulars here, but lately there are also young people. Occasionally, a 15 or 16-year-old girl comes to ask for food at the end of the day. She asks, 'do you have anything you can give me?' and we give what we can."
Rahamim, another longtime stall owner, agrees that the sight of people picking up food from the floor has become much more common. "They mostly come before Shabbat begins, but also during the week. You can see in their eyes that they have no other choice, that if you won't let them take it, they'll have nothing to eat. They ask if they can take vegetables: cucumbers, tomatoes, peppers – even those that are not good quality. They don't have much choice."
The situation at the Mahane Yehuda market is not very different from that in Tel Aviv's Carmel Market. Roi, a 34-year-old father of two says: "In the past six months, I have been coming here every weekend. My wife and I work hard and try to make ends meet. We spend thousands of shekels a month on raising the kids and rent, and we are on the brink of economic collapse."

Roi added that "when I come here, my biggest concern is that people who know me will see me in this position and start feeling sorry for me."
Yuri, on the other hand, feels less ashamed. He is 62-years-old, and an immigrant from the former Soviet Union. On Fridays, he says, he makes sure to pass by the market on his way home from his job at the mall – just in time for closing. He passes through all the stalls and gathers what's left, so that he'll have something to eat at home.


"I make NIS 4,000 a month and take food from the floor because I need the money to pay the bills, and don't have enough," he explains. "I don't have a pension fund and there's no one who can help me."
The average Israeli family cannot get through the month, a report by the Taub Center for Social Policy Studies revealed earlier this week. Another National Insurance Institute study recently found that 1.6 million Israelis - half of them children - were living in poverty in 2013, out of a total population of 8 million.
The report found that while the poverty level in Israel decreased by a few percentage points in 2013, it still had more poverty and wider socio-economic gaps compared to Western countries.
Roi Yanovsky contributed to this report.