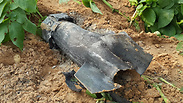 Rocket that hit Eshkol Regional Council on Friday
Photo: Roee Idan
Hamas warned on Saturday the IAF strike in Gaza on Friday night was a "dangerous escalation."
The Israeli Air Force struck a Hamas training facility in the Khan Younis area in the southern Gaza Strip on Friday night in retaliation for a rocket fired at southern Israel earlier in the day. The attack marked the first time Israel carried out an air strike in the Gaza Strip since Operation Protective Edge ended in August. No injuries were reported.
The IDF spokesperson issued a statement confirming that the IAF hit "terrorist infrastructure" belonging to Hamas's military wing in the southern Gaza Strip.
A direct hit was detected, the statement said, adding that the "attack constituted a response to the steep trajectory rocket fire towards Israeli territory at the noon time hours."
"The Israeli attack last night and its targeting of fishermen and farmers recently constitute a dangerous escalation. We call on the international community to bear the responsibility for the Israeli aggression," a statement from the group said.
"The resistance has the right to respond to the Israeli aggression at the time and place it chooses," said Hamas official Ismail al-Ashqar.
A Code Red rocket alert siren was heard shortly before noon Friday in the Eshkol Regional Council, an Israeli community close to the Gaza border, and was soon followed by blasts, residents reported. IDF forces canvassing the area found a rocket that fell in an open area, and no injuries or damage were reported. This is the third time a Gaza rocket has landed on the Israeli side of the border since the end of Israel and Hamas' 50-day summer war.
Yoav Zitun contributed to this report.