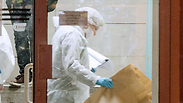 Scene of suspected terror attack
Photo: AFP
A man armed with a knife entered a police station in central France on Saturday in a likely attempt to harm officers. He stabbed and wounded three police officers while shouting "Allahu Akbar."

Local security forces shot him to death on the scene in Joué-lès-Tours, the largest suburb of Tours.

Close to 2 pm local time (3 pm Jerusalem time), the suspect entered the police station and stabbed a policewoman in her face, and attempted to stab two other officers. A source familiar with the investigation told AFP that before he was shot to death by the local forces, he yelled the Takbir in Arabic.

French newspaper Le Figaro reported that the suspect ran furiously into the building. The three officers approached him and attempted to calm him down when he suddenly pulled a knife on them. The suspect wounded the officer in her cheek and ear, and tried to stab the other two officers while screaming "Allahu Akbar."

A security official pulled out his firearm and shot him twice, killing the suspect. It was reported the suspect was an Islamist known for his radical positions.

"He is a Burundi native with a criminal record," said the French news agency.

The counter-terrorism section of the Public Prosecutor's office has opened a probe for "attempted murder and criminal conspiracy in connection with a terrorist organisation", the Paris Prosecutor's office said.

"There are grounds to probe whether he acted alone, whether he followed orders, or whether it was a mindless action," Public Prosecutor Jean-Luc Beck told BFM-TV.

The man was known to police for common crimes but was not on any watch list of the French intelligence services, Cazeneuve said, adding: "The probe is only starting."