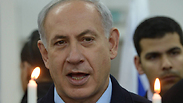 Prime Minister Benjamin Netanyahu
Photo: Amos Ben Gershom, GPO
Despite his past objections to the issue, Prime Minister Benjamin Netanyahu said Sunday that he supports raising the minimum wage to NIS 5,000 a month.

At the beginning of the month, Histadrut Labor Union Chairman Avi Nissenkorn and Tzvika Oren, head of an umbrella group of industrialist employers, met and announced that they have reached an agreement regarding the union's demand to see Israel's dismal minimum wage raised by NIS 700, from NIS 4,300 to NIS 5,000

"This is great news for over 700,000 workers in Israel which helps fight inequality by incentivizing (the unemployed) to return to the job market," the prime minister said, claiming the move was a natural continuation of 2011 decision to raise minimum wage from NIS 3,700 to NIS 4,300.

However, at the time, Netanyahu opposed the move, initially proposed by MK Amir Peretz as 4,600 NIS, and the raise passed only under heavy threats of striking by the Histardut.

In response to the move, head of Labor's election committee, MK Eitan Cabel, slammed the move as election economics, and cynically said "Good morning to the social activist Benjamin Netanyahu. What social sensitivity to the lower rungs of Israeli society... and completely unconnected of the looming elections. How stupid do you think the people are? In 87 days we will send you and your government back home."

The deal to see the minimum wage go up was reached by Israel's largest union and head of the industrial sector, but is not binding for Israel's largest employer - the State. Netanyahu's announcement today indicates the state will be willing see the raise implemented for its employees too. However, Ynet has learned the Finance Ministry is still negotiation with the union, and thus the raise is far from certain.
Minimum wage
According to the Organization for Economic Co-Operation and Development, Israel's real minimum wage was the 12th highest among 25 countries in 2013.

In dollar terms, it was $14,291 a year in 2013, just behind the United States' $15,080. Israel's cost of living is high, however, and has lead to widespread protests in recent years.

Israel faced its first nationwide strike in nearly three years at the beginning of the month as part of the dispute over the minimum wage, an action that would put the economy at renewed risk after it took a big hit from a summer war in Gaza.

Officials from the Finance Ministry and Histadrut – the umbrella organization for 700,000 public sector workers – eventually met and reached the deal to avert the strike which was scheduled to begin on December 7.

If it was to go ahead it was likely to have shut down the airport, seaports, trains, the stock exchange and dozens of government services, at a cost of up to $500 million a day.

Reuters contributed to this report