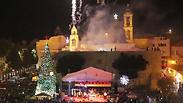 Manger Square in Bethlehem
Photo: EPA
Everything, even Christmas, is political. The towering Christmas tree in Manger Square is decorated with ornaments in the colors of the Palestinian flag – red, green, black and white.

Officials here said that last summer's fighting between Israel and Hamas in the Gaza Strip continues to affect tourism in Bethlehem. After the visit of Pope Francis last May, Palestinian officials had hoped for a banner year of tourism, and to surpass the 2.66 million visitors to Bethlehem in 2013. But Palestinian officials said that many people had cancelled their trips, after the fighting, which left more than 2,100 Palestinians and 72 Israelis dead, began.

Travel Industry

Palestinian tourism expert says $1.4 billion lost every year, as roads for settlers, border controls and administrative issues seriously hinder local industry.

Tourism to Bethlehem is set to hit 2.65 million visitors this year. While hotels are full for Christmas, they include many Israeli Arab tourists, who traditionally spend less money than foreign tourists, especially Americans. Palestinian officials have long complained that most Christian pilgrims come to Bethlehem for just a few hours for a quick visit to the traditional birthplace of Jesus, the Church of the Nativity, and then head back to Jerusalem to sleep.

"A tourist gets into a bus, goes to the Church of the Nativity, and then disappears," Bethlehem mayor Vera Baboun told a group of visiting foreign journalists. She said 40 families had left Bethlehem in the last few months alone, and the city which in 1948 was 82% Christian, is now only 22% Christian.

Fadi Kattan, a Palestinian tourism expert, says Israel administers several tourism sites in areas that Israel capture in the1967 Six-Day War, including Herodium, where Herod the Great was buried 2000 years ago, and Qumran, where the Dead Sea scrolls are found, and keeps the money these sites bring in. In addition, since Israel controls the borders of the West Bank, it is not possible for tourists from many of the surrounding Arab countries to visit Bethlehem.

"When you add it all up, the movement and access problems and everything else, we are losing $1.4 billion a year," Kattan said. He said the current revenue is just $460 million per year.

Bethlehem, a city of 25,000 just five miles south of Jerusalem, is heavily dependent on tourism. Tourism minister Rula Ma'aya said that the tensions between Israel and the Palestinians, as well as the Israeli-built barrier that divides Bethlehem from Jerusalem, negatively affect tourism.

"We can't have real development in this sector until the (Israeli) occupation ends," she said.

While overall tourism is down, overnight stays are up nine percent this year from last year. However she said the largest number of visitors is from Russia, Poland and Italy, who tend to spend less money than US tourists.

"In history, Bethlehem and Jerusalem were twin cities," she said. "Now, Bethlehem is being isolated."

Israeli officials say they try to make it as easy as possible for tourists to travel from Bethlehem to Jerusalem, especially around Christmas. The Jerusalem municipality provides free shuttle buses for tourists who want to visit Bethlehem, and thousands will attend the traditional Christmas celebrations this week.

Article written by Linda Gradstein.

Reprinted with permission from The Media Line .