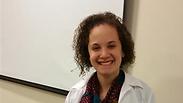 Maya Fishman, a remarkable 16-year-old who will soon become the youngest doctor in Israel's history, is also struggling under the poverty line.

Maya was recently accepted to the IDF's program for medical students and started her first year of med school at the Hebrew University in Jerusalem. But on top of her demanding studies, Maya and her mother are struggling to survive in the difficult economic reality.

Shlomit Fishman knew her daughter was special when Maya was only a year old. She started talking long before most children her age did, and had phenomenal memory, precision and spatial perception.

Shlomit decided to help her daughter realize her potential so she could achieve more. She signed Maya up for after-school activities, read stories to her and took her to the movies. When Maya was in pre-school, she skipped to the first grade, where the school's faculty also realized this was an extraordinary girl. But it didn't start off that way.

"The teachers were angry that she was more advanced in her studies than the other children," the mother said. "And instead of helping her get ahead, they unfortunately tried to push her back."

The mother, who worked at Ben Gurion Airport for 30 years, was fired at the time and moved to Tivon with her daughter. May's new school allowed her to skip a class.

Shlomit continued nurturing her daughter's talents. "She loved to read books, played chess, we talked and analyzed movies we saw together. She had a great thirst for knowledge, and favored the adults' company to spending time with her own peers. I was there for her 24 hours a day to satisfy her desire to know more and more and achieve things."
Med school at 16
The hard work paid off. When she was 14 years old, Fishman took the psychometric exam (Israel's equivalent of the SATs), without a prep course, and got 700 (graded on a curve between 200-800). When she was 15, she was put in an accelerated track and finished her final math exam three years ahead of everyone, scoring100 percent.

She went on to finish her final exams in physics, chemistry and English (as a foreign language) and excelled at them all. At the same time, she submitted a paper in Bible studies to a competition for exceptional students at Bar-Ilan University and won first place.

While all of her friends were studying in the 10th grade, Fishman already finished all of her high school credits and re-took the psychometric exam, once again studying for the test on her own without the help of a prep course, scoring 780. She applied for the army program, easily met the entry requirements, and started the first year of med school at the Hebrew University when she was only 16. When she turns 22, she will become the youngest doctor in the history of the State of Israel.

"Maya dreamed of becoming a doctor for many years," her mother said. "At first I thought it was just a phase and I even expressed my objections. I knew it was a profession that disappoints, doesn't reward financially or mentally, and could be dangerous with all of the violence against doctors. I slowly realized, however, that fighting her won't help and it's better to just go with her. We saw medical dramas like 'House MD' together and she was overjoyed."
Hitchhiking to school to save money
But while Maya is chasing her dreams, she and her mother are struggling to pay the bills. Shlomit was unemployed for a long time after being fired from her job at Ben Gurion Airport and only recently started working again, making only NIS 2,200 ($560) a month.

Maya has been trying to help with the bills from an early age, since her mother was fired, and they were forced to save up every shekel. This is why this new med student found herself hitch-hiking to school to minimize her expenses.

Fishman, who is a part of the army's program for medical students, has already gone through initial recruitment stages, making her also the youngest soldier in Israel. Ynet spoke to Maya's mother because the IDF Spokesman would not allow an interview with Maya herself.

"Maya was born after years of hard life," Shlomit said. "She's a way for me to fix all that I couldn't achieve in life, and I'm happy to see her living her dreams - dreams I didn't get to realize in this world. All of my life I've been treated as if I was invisible and I always told her that I want her to have this drive to be better, to achieve things, so no one could ignore her."