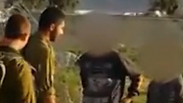 The soldiers and the kids
IDF paratroopers' hearts went out to two Palestinian children who approached their post on Sunday asking for food.

One of the soldiers, Corporal Oren, told his friends about the two children, and they didn't hesitate before giving most of their lunch to the children, even giving them some snacks as well.

"After talking to our friends, it was clear to us we couldn't let those kids keep looking through dumpsters for food, while we had extra food," the corporal said.

IDF soldiers feed hungry Palestinian children

Normally, IDF soldiers meet Palestinian children when they riot, throwing stones and Molotov cocktails at the troops. But after hearing the kids' plea: "We're hungry, we have no food at home and we're looking in dumpsters for something to eat," the paratroopers decided to give them a loaf of bread, meatballs, fruit, vegetables, hummus and snacks they had bought for themselves.

"One of the children told me he already searched through all of the dumpsters around. I told them to wait a few minutes until I got back," the soldier said. "We went out to them and sent them on their way with food and drink."

Before meeting the children, Corporal Oren wrote on his Facebook page that the pillbox he was stationed at was pelted with stones. "We were preparing to disperse the crowd, which was continuing the massive stones onslaught against us. I was preparing one of the crowd dispersal measures we had," he wrote. "At that moment, my sergeant noticed a little girl standing outside her house, between us and the rioters. He told me to cease fire and that I wasn't to fire until we made sure the girl is safe inside her home. During that time we were exposed to the stone throwers and were hit a lot and hard, but at no point did we even think to do anything while innocent children could get hurt."

He went on to say: "I hope the two stories I told you - as someone who is out on the field experiencing things without mediation - helped paint a certain picture of what soldiers deal with every day. Next time you hear someone in Israel or abroad slamming the IDF, saying we're not a moral army, you're welcome to send them my way."

Officials at the IDF Judea and Samaria Division said this was a local and independent initiative taken by the soldier, and that he received no orders to help the children. They added that the Palestinians often use children to set up a trap for IDF soldiers in order to film them attacking the kids after they provoked the troops.