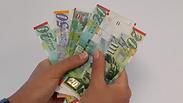 Netanyahu recieves funding from Americans.
Despite criticism that Prime Minister Benjamin Netanyahu has harmed Israeli relations with the US, the Likud leader received almost half a million dollars in donations for the faction's primary from American benefactors.

Netanyahu received 538,783 shekels from 15 donors abroad – 14 of which are from the United States. The data was found on the State Comptroller's website – all politicians must report donations on the website.

Netanyahu received donations from 14 American and one Spaniard between November 25th and December 15 and each one donated between 5,000 dollars to 11,500 dollars.

The list published on the State Comptrollers website sites the names and locations of each donor and reveals that most of the American benefactors hail from New York, Los Angeles and Florida.

Netanyahu's rival in the Likud primaries, MK Danny Danon, received 261,120 shekels worth of donations. Ten of his benefactors are from the United States and one, who donated 5,000 shekels, is from Israel.

Moshe Feiglin, who withdrew his candidacy, gathered a little over 220,000 shekel from 217 benefactors. Along with local benefactors from Jerusalem, Kfar Saba, and Yavne, Feiglin also received contributions from Canada, Australia, Brazil and the United States.

Even candidates lower down on party lists began fundraising for the primaries.

Deputy Minister Ofir Akonis (Likud) received 106,947 shekels from contributors in the past four months and MK Haim Katz received funds from four benefactors who each pledged 5,000 shekels.

Within the Labor party, MK Nachman Shai received 79,352 shekels from donors hailing from the US, Canada and Israel. MK Michal Biran received NIS 8,100. Other Labor party nominees did not report receiving funds for the primaries.

In Naftali Bennett's Bayit Yehudi party, Bennett received 39,850 shekels from a New Yorker. Furthermore, MK Ayelet Shaked received 51,976 shekels from donors from the US and Israel. Newly announced candidate Ronen Shoval received NIS 100,000 – NIS 50,000 Shoval pledged himself and the other 50,000 was pledged by his father.