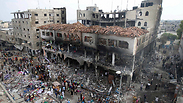 Destruction in Gaza following summer war
Photo: Reuters
International donors have so far failed to deliver billions of dollars in aid money that was promised to rebuild the war-battered Gaza Strip, a Palestinian official said Monday, saying the rift between rival Palestinian factions is deterring foreign governments from sending aid.

In the wake of a 50-day war between Israel and Palestinian fighters over the summer, international donors promised $2.7 billion to help rebuild Gaza at a conference in Cairo in October. But Palestinian Deputy Prime Minister Mohammed Mustafa said "not even one penny" has been received from major donors such as Qatar, the United Arab Emirates and Turkey.

"Frankly speaking, what is happening now is not encouraging," Mustafa said. He said just a trickle of money has been received, but refused to elaborate.

"All the parties still have fears about the situation, whether the political situation or the reconciliation or the border crossings," he said.

Rival Palestinian groups Hamas, which rules the Gaza Strip, and the Western-backed Fatah, which governs the West Bank, formed a unity government earlier this year. But the government is still not functioning, and the sides have argued over how to carry out reconstruction, including who will control crossings with Israel from where building materials will pass.

This summer's war devastated parts of Gaza, destroying thousands of buildings and leaving tens of thousands of people homeless. More than 2,100 Palestinians were killed in the fighting. In Israel, 66 soldiers and seven civilians were killed.
'Gaza ripe for new explosion'
Meanwhile, barely four months after a bloody conflict battered Gaza, experts warn that a new war could be in the offing if reconstruction is not accelerated and Palestinian divisions remain.
Since the end of Operation Protective Edge, little has changed on the ground in Gaza.
Swathes of the territory lie in ruins and tens of thousands of people remain homeless.
With reconstruction still conspicuous by its absence and talks to bolster the August truce repeatedly postponed, frustration is growing in Gaza - and with it the danger of a new outbreak of violence.
This weekend, for the first time since the war ended on August 26, Israeli warplanes struck southern Gaza after militants fired a rocket over the border, the third time this has happened in four months.
Although nobody was hurt on either side, the exchange of fire raised concerns that the fragile truce could deteriorate rapidly.
Last week, as Hamas militants paraded through Gaza with rocket launchers and missiles in a show of force to mark the 27th anniversary of the Islamist group`s founding, they were quick to warn that the situation was unsustainable.
"If there is no reconstruction of what Israel destroyed, we warn you that there will be an explosion," warned the Ezzedine al-Qassam Brigades, Hamas`s military wing.
"If our demands are ignored, there will be consequences for the enemy, its people and its leaders." The glacial pace of reconstruction is the most immediate concern for Gaza, where UN figures show more than 96,000 homes were damaged or destroyed in the war, leaving 100,000 people homeless.
Over the past eight years, Gaza has been subjected to an Israeli blockade which has effectively barred the entry of most construction materials on grounds that militants could use them for other purposes, such as building attack tunnels under the Israel-Gaza border.
After the war, the UN brokered a mechanism which would allow such goods in while ensuring they do not fall into the wrong hands.
Palestinian officials say Israel has effectively blocked reconstruction by limiting supplies entering Gaza, but diplomatic sources say the UN-brokered mechanism has taken longer than expected to get up and running.
The process has also been slowed by infighting between Hamas and Fatah, its West Bank-based rival which dominates the Palestinian Authority and has been tasked with managing reconstruction.
"The circumstances are as they were before the war," Israeli commentator Avi Issacharoff said.
"If the blockade continues, the borders remain closed and building is slow in the next six months, Hamas will move towards escalation, and depending on Israel`s response, it could turn into a new war."
Gaza-based analyst Walid al-Mudallal agreed that Hamas was under increasing pressure.
"If it remains frozen in terms of reconstruction, war will be the only option. Hamas will have no choice," he said.
Figures cited by international aid charity Oxfam indicate 287 truckloads - each carrying around 40 tonnes of essential building materials - entered Gaza in November.
But officials say that if Gaza is to be rebuilt within three years, it would need to be receiving at least 7,000 tons - or 175 truckloads - every day.
"The options are few and very difficult, ranging from bad to worse. As Israel slows the entry of building materials, Egypt closes the (Rafah) border and reconciliation fails to be implemented," Mudallal said. Reconstruction aside, analysts say the conditions which led to the deadly summer conflict are largely still in place.
Before the war, Hamas -- already struggling under the Israeli blockade -- found itself under increasing pressure from Egypt which dealt Gaza a harsh blow by destroying a network of cross-border smuggling tunnels and closing the Rafah crossing, triggering a major financial crisis.
In a bid to ease the pressure, Hamas signed a unity agreement with Fatah in the hope that the Palestinian Authority would facilitate payment of its Gaza employees.
But the deal has never been properly implemented, and tensions between the two has only festered.
"The likelihood of war is there," said Naji Sharab, a politics professor at Al-Azhar University.
"Hamas`s popularity will wane if the building freeze continues and if the financial issues aren`t solved, and this will happen the longer reconciliation stagnates," he said.
With the Palestinian Authority slated to play a key role in reconstruction and monitoring the crossings with Israel and Egypt, overcoming internal divisions is crucial.
"If the political and internal situation continues like this and Hamas does not find a way out, then it might decide it has no other option" than war, Sharab said.