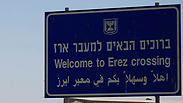 Erez Crossing
Photo: Reuters
With Israel's approval, Palestinians began importing machinery on Monday to equip the Gaza Strip's first Coca Cola plant for an anticipated 2015 launch of operations.

Emad al-Hindi, director-general of the Palestinian National Beverage Company which produces the soft drink in the West Bank, said 10 truckloads of machinery had arrived in Gaza via a crossing with Israel.

Israel confirmed it had allowed nine truckloads from Jordan to reach Gaza for an enterprise it hoped would provide jobs for hundreds of people in the coastal territory.

Hindi said he expected more equipment to be shipped from Germany and Turkey and hoped the machines would be installed at a location in central Gaza by March "so that we can launch operations before the end of 2015."

"The factory building is ready, lines of produce are ready," Hindi said, adding "we hope to be able to conclude all the stages without any obstacles."

Hindi estimated total investment would come to $20 million and hoped the factory would employ 360 Palestinians by 2016 and more at a later stage, a small but critical economic opportunity in a territory plagued by poverty and where war has destroyed or damaged tens of thousands of buildings.

The plant would be the first to produce Coca Cola in Gaza, which already has a Pepsi plant.

Israel's approval of the plant, a plan for which was developed over the past two years, preceded a July-August war involving Israel and Hamas Islamists who dominate in Gaza.

Post-war reconstruction in Gaza has been slow, with donations from abroad trickling in slowly and Israel tightly monitoring Gaza's imports of construction equipment to prevent Hamas militants from rebuilding tunnels to launch attacks.

In a related development, President Mahmoud Abbas's Palestinian Authority took a step towards implementing a key truce term that ended the Gaza war by naming a panel on Monday to take control of Gaza's crossings with Israel from Hamas.

A statement by Palestinian Prime Minister Rami Al-Hamdallah said the committee would meet with Gaza officials to "enhance the work of the crossings and speed up reconstruction."

Their mission would also involve talks with Hamas officials to agree to a handover of the Islamists' role at the crossings.