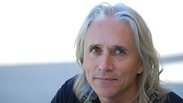 Ady Gil the Israeli millionaire who decided to save 1,300 monkeys.
After a bitter struggle that lasted more than 20 years to close down the Mazor Farm, which breeds and exports monkeys for medical experiments, many of the animal rights activists involved in freeing the monkeys must have pinched themselves when they woke up on Monday morning to make sure they were not dreaming. The fight against the breeding farm – which included stormy protests, threats and mutual mudslinging – had ended and the activists won.
The farm is set to be shut down completely and its 1,300 monkeys will be set free.
The surprising conclusion to the struggle came thanks to Ady Gil, a multimillionaire Israeli living in the US, who laid out no less than $2 million to spare the monkeys a life of suffering.
The festive signing ceremony on Monday included a lot of hugs and champagne. Under a gentlemen's agreement, it was deemed best for Dr. Moshe Bushmitz, the farm's manager who took endless flak from the activists for almost 20 years, to add his signature to the purchase agreement elsewhere to avoid any unpleasantness for both sides.
Far away, in California, Gil opened a bottle of champagne to mark the auspicious triumph.
"To be honest, I wasn't planning on spending $2 million right now," Gil admits on the telephone from his home in Hollywood, where he celebrated the occasion with his rescue dog, Kayla, a Rhodesian Ridgeback-Pit Bull mix. "I said to myself that I don't want to end up knowing that I had a chance to save 1,300 monkeys and didn't do so – not that I'm entirely sure that it's the best way to spend the money."
What do you mean?
"With $2 million, I could save a lot more monkeys – if I manage to amend the laws that permit experiments on them by going to war with the US Food and Drug Administration. The question is whether I can do both, and I think I can. So I decided to take on the financial responsibility and act."
It's still a lot of money.
"But I didn't see any of the Israeli millionaires and billionaires doing so. There are those who sold their businesses to Google for millions; but when efforts were made to enlist some of that money, none of them said, 'You know what? It's close to my heart, or it's a little close to my heart, I'll put in a hundred thousand.'
"My problem with people in general is that their priorities, in my opinion, are wrong – money comes first and morality second. It's the other way around for me. Those monkeys don't have bank accounts or cellphones, and their lives depend on someone like me, who'll put up money, or like you, who'll give of up his time and write articles in an effort to stop it. The monkeys can't come along and say: 'Hey, we don't want to go to the lab.'"
How did you feel during the talks with Dr. Moshe Bushmitz, a man who exported hundreds of monkeys for experimentation purposes?
"I had no choice. Look, he's the only one selling me the car. I can't go to another dealership. Bushmitz claims that some of the experiments have led to the discovery of drugs for people, and that's how he justifies it. People come before animals on his list of priorities so from his perspective if animals need to be sacrificed to discover a cure for Ebola - he'll infect monkeys with Ebola."
Gil's intervention on behalf of the Mazor monkeys came as a godsend to the groups that have been battling to shut down the farm for years. Established in 1991 - more than 1,000 macaque monkeys at a time were bred for medical experiments and other purposes at the Mazor Farm.
Animal rights activists began their widely publicized struggle against the farm the moment it opened; and some 20 years later, an apparent solution appeared: Israel barred the export of wild animals from the country.
The decision effectively meant the closure of the farm, but the question of what would become of the monkeys remained unanswered. Last Wednesday, just before the farm was shut down, the attorney general approved the export of 560 monkeys to the United States - dooming them to life in a laboratory.
At the same time, as revealed initially by Yedioth Ahronoth, frantic talks were underway for the purchase of monkeys, with businessman Amos Ron, former director-general of the Israel Ports Authority and founder of the Monkey Rescue public-benefit company, leading the way.
Bushmitz was asking for $3,500 per monkey – the same price the labs pay. Ron agreed to pay no more than $1,500, and was hoping to raise the money by means of an Internet campaign and personal approaches to wealthy individuals. The fund-raising effort, however, came up very short, and he couldn't find anyone to donate to the cause.
"After (former) environmental protection minister Gilad Erdan decided to shut down the farm, the monkeys were clearly going to be sold," says Anat Refuah of Behind Closed Doors organization who has led the fight against the Mazor Farm for many years.
"There were two options: Either they'd be sold for experiments and a fate worse than death, or they'd be sold into good hands that would save them. Ady Gil was in Israel two years ago and he joined one of our rallies and when the idea to purchase the monkeys came up, I asked him if he'd be willing to save them and he agreed immediately."
So who is the millionaire who appeared out of the blue to rescue the macaques from their hell?
Gil, 56, a sworn bachelor, grew up in Ramat Gan and served in the Israel Air Force. At 25, after a series of random jobs, he went off to try his luck in the land of endless opportunities - the US, where he met up with Erez Ram, a friend from the army and later his business partner. In 1992, the two founded American Hi Definition, a video projection screen company that soon prospered in the field of HD and today provides big-screen projectors to the Academy Awards, the Grammys and most of the other major award shows - and also works with the likes of Ellen DeGeneres, Jimmy Kimmel and Jay Leno. The exit came in November 2010, when American Hi Definition was bought by NEP, one of the largest broadcast and live event service companies in the world.
Bound by a confidentiality agreement, Gil won't say how much he earned from the sale to NEP, but from that moment on, he became a full-time animal rights activist. Most of us would probably have spent the millions otherwise, but Gil decided to devote his money and free time to an ideological cause. "My first step was to take $6 million and donate the money to my organization, AGWC – Ady Gil World Conservation," he says.
Through his organization, Gil has established an adoption center for cats and dogs in Los Angeles, financed the neutering and spaying of 6,000 cats in Israel, built a giant roosting structure for eagles in a wildlife preserve on Mount Carmel, and invested millions in a ship to fight whaling in Japan. The ship, christened by Ady Gil, was donated to the anti-whaling organization, Sea Shepherd, but sunk just two months later following an incident involving a Japanese whaling boat – or so Sea Shepherd claims.
"The whalers did indeed ram her; but after the collision, you can see her still floating very nicely," says Gil, who is suing Sea Shepherd. "They sunk her to raise money and blamed the sinking on the Japanese."
How do you know?
"The ship's captain came to see me and said, 'I sunk your ship.' He said he was instructed to do so by Paul Watson, the president of Sea Shepherd. It's a very popular organization, and when Paul Watson speaks, everyone listens. Everyone's scared of him. But nothing scares me. I said 'I'm going to nail you,' and I sued him."
Gil has yet to learn the outcome of the lawsuit, which remains under deliberation in a US court, but he's looking on the bright side. "The bottom line is that this is the time when they'd usually be whaling in Antarctica, and the fact is there's no whaling going on at the moment," he says. "Why? Because in the wake of all the mess, New Zealand and Australia woke up and sued Japan in the International Court of Justice in The Hague for carrying out commercial whaling, which is prohibited by the international treaty."
After the sad affair with Sea Shepherd, Gil turned his attention to taking on the FDA. "One of most important things is to affect a change in the FDA's priorities and conceptions," he says. "After all, experiments on animals are of no use to people or to animals. Scientists concur today that around 90 percent of the experiments are of no relevance at all to human beings. That's why drugs that could have been made available to people sometimes aren't – because they haven't been tested on animals and therefore haven't won FDA approval."
Unsurprisingly, Gil is also a vegan. "For 10 years now," he says, "It wasn't popular back then. I had no one to guide me like you have Gary Yourofsky and others like him today."
Do you know him?
"Actually he sent me an email a few days ago to ask if I could help him out a little financially. He's a sought-after lecturer, but I don't think he makes much money from it, so he needs help."
And what now, after the purchase of the monkeys? Initially, Gil says, the animals will have to remain at the farm until a suitable enclosure is erected for them. "One thing's for sure," he says, "they won't be in cages. I'm against zoos too."
The options currently being considered by Monkey Rescue include moving the macaques to Havat Bodedim in the south of Israel or expanding the Ben Shemen Monkey Park. The monkeys, Ron explains, cannot be released back into the wild.
"We're talking about monkeys that were born in captivity, and they have no survival skills," he says. "We also aren't going to turn Israel into India, where there are monkeys everywhere, because they'll simply look for food and start going into homes when they don't find any."
The keys to the farm were handed over on Monday. "It's a dream come true. A dark stain has been lifted off the State of Israel," says Anat Refuah. "I slept really well for the first time in years. I promise all the monkeys that they will live the rest of their lives with love and in dignity."
And will we perhaps see Gil in Israel one of these days? "I come once every two years, unfortunately, but maybe now I'll be motivated to come because of the monkey park," he says. "In the meantime, I call on all those who wanted to release the monkeys to come and help. Now begins the not-so-sexy but important work of safeguarding the monkeys."