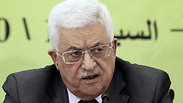 Palestinian President Abbas
Photo: EPA
The Palestinian draft resolution demanding Israel to withdraw from the West Bank and East Jerusalem will be brought to a vote at the UN Security Council by the end of 2014, PLO official Saeb Erekat told Russian media on Tuesday - but it has raised objections from some Palestinian factions, including Hamas.

The Arab-backed draft resolution submitted by Jordan on behalf of the Palestinians last week calls for "an end to Israeli occupation," demanding Israel to withdraw to the pre-1967 lines by 2017, following which a Palestinian state will be established on those territories.

The resolution also calls for direct peace talks limited to one year to agree on the implementation of the resolution.

Hamas spokesman in Gaza, Sami Abu Zuhri, called on the Palestinian Authority to withdraw the resolution, saying it "doesn't represent consensus of the Palestinian people," Chinese news agency Xinhua reported.

The Democratic Front for the Liberation of Palestine (DFLP), a far-left Marxist–Leninist faction, also urged the PA to "immediately withdraw" the draft resolution, saying the Palestinian leadership was presenting a confusing picture of the bid, according to Palestinian news agency Ma'an.

"They have been presenting it before the political bazaar at international level for bids, then they claim they are making amendments as if it has been submitted by others," the group said in a statement.

"Both the original version and the amended version, including the French and British remarks, is beyond repair and reform, and should be withdrawn immediately without delay," following which all Palestinian factions will be invited for a national dialogue about the resolution, the group said.

In Algiers, meanwhile, visiting Palestinian President Mahmoud Abbas said that if the draft resolution is not brought to a vote, the Palestinians "will be obliged to take necessary political and legal decisions," according to Algeria Press Service (APS).

He threatened that should the resolution fail at the UN Security Council, "we will no more deal with the Israeli government which will then be obliged to assume its responsibilities as an occupier."

"We are determined to recover the rights of our people, including the right to return and the release of all the Palestinian prisoners in the Israeli jails. We will not succumb to the policy of the Israeli hegemony and oppression," Abbas told a press conference at the Algerian Foreign Ministry.

"Palestine will ultimately regain its independence and impose itself as an independent State with Al-Quds as capital," he added, according to APS.