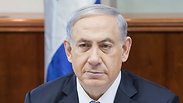 Netanyahu
Photo: Emil Salman
Prime Minister Benjamin Netanyahu drew inspiration from his 1996 election campaign on Tuesday, saying that Labor leader Isaac Herzog and Hatnua leader Tzipi Livni will divide Jerusalem.
"I heard from people who are willing to give the Palestinians a capital city in Jerusalem," he said, referring to Livni and Herzog.
Without naming the two MKs, who have joined their respective parties, Netanyahu said "I heard them say the Western Wall will remain ours. How is the Western Wall going to remain ours? As an enclave inside the Palestinian area? And how exactly are we going to get to it? In convoys? In helicopters? In armored vehicles? We didn't return to the Western Wall after 2,000 years to get to it in armored vehicles."
Livni and Herzog attended a candle-lighting ceremony at the Western Wall on Sunday, where Livni said that "Israel's sovereignty here in Jerusalem is an expression of the historic tie between the people and their country. This sacred and historic site will remain under Israeli sovereignty forever."
Netanyahu, who 18 years ago claimed Shimon Peres "will divide Jerusalem," said at the International Bible Contest on Tuesday that "we will thwart all challenges and withstand all pressures. I'm telling you here, on this day, on the last candle of Hanukkah, the Western Wall will remain ours, all of Jerusalem will remain ours, united forever under Israeli sovereignty."
Livni and Herzog responded to Netanyahu's accusations in a joint statement: "Bibi, like always, is cynically using Jerusalem. The public has lost its trust in Netanyahu and we will replace him."