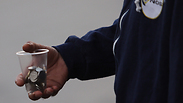 Beggar asking for money
Photo: Gil Yohanan
Eli Alaluf, the head of the Alaluf Committee to Fight Poverty and a recipient of the Israel Prize, called on Prime Minister Benjamin Netanyahu on Tuesday to immediately appoint an interim welfare minister, after two poverty reports showed the dire socio-economic situation in Israel.

Several government ministries were left without leadership after Netanyahu fired finance minister Yair Lapid and justice minister Tzipi Livni. Lapid's party ministers - Meir Cohen (Welfare), Shai Piron (Education), Yael German (Health) and Yaakov Peri (Science, Technology and Space) - resigned in protest of their party leader's dismissal.

Prior to that, Hatnua minister Amir Peretz resigned from his post at the Environmental Protection Ministry in protest of Lapid's 2015 state budget proposal, which Peretz said did little to help the lower classes.

Likud minister Gideon Sa'ar resigned from his post as Interior Minister and announced he was quitting political life - but he was quickly replaced by Gilad Erdan.

Meretz MK Ilan Gilon, one of the leaders of the fight against poverty in the Knesset, joined Alaluf's call, saying that "for a crisis that is only getting worse, we need a fully-functioning welfare minister."

Gilon noted that "close to 2 million people are living in poverty in Israel, while the rest have a hard time making ends meet. Immediate emergency steps are needed, and the conclusions of the Alaluf Committee - that there was no plan to even budget - must be implemented immediately."

Gilon went on to say that "poverty is not predestined; it's a product of policy and an unjust division of the national wealth. Israel is currently leading Western nations with a massive gap in inequality. The solution is in the upcoming elections and returning to the state's responsibility to its residents."

Labor MK Eitan Cabel, on the other hand, said he was not calling for a new welfare minister, "because, frankly, under this government - I'm not sure if it's better for the ministry to be manned or not."

Labor MK Itzik Shmuli said that "the poverty reports released this week cry out a clear fact: Under Netanyahu's policies, the rates of poverty reached monstrous magnitudes. We need to declare a national emergency now and appoint a full-time professional to the ministry to deal with the crisis."

Shmuli went on to say that "the very thought that because of the elections, 2 million Israelis will have to wait at best another year before there's a budget and action can be taken - is just unacceptable. If the prime minister invested in welfare a quarter of the effort he invests in trying to sneak money to the settlements, we'd be in a different situation now."

Welfare Ministry Director Yossi Silman told Ynet that "all of the professionals at the ministry know how to do their job, and continue doing it very well. We're in constant dialogue with the Finance Ministry and the Prime Minister's Office over budget additions as well. We are handling the construction of 160 day centers for the elderly, and worked with the Immigration Office to provide facilities for 8,000 Holocaust survivors and meals to 12,000 handicapped people."
Hanegbi, Hotovely appointed deputy ministers
Meanwhile, Netanyahu appointed deputy foreign minister MK Tzachi Hanegbi (Likud) as deputy health minister. Hanegbi is expected to serve in both rules, while having a minister's authorities in the Health Ministry.

Former health minister Yael German called on Hanegbi "to continue advancing the health system reforms we've been diligently working on over the past two years and immediately add the necessary budgets to shorten the lines in hospitals and closing the deficit for HMOs."

The 2015 budget was supposed to include a NIS 4 billion addition to the health budget, but the state budget failed to pass and Netanyahu called for elections.

Deputy Transportation Minister Tzipi Hotovely (Likud) was appointed deputy minister at the Science, Technology and Space Ministry.

The cabinet approved both appointments in a phone vote.

Omri Efraim, Attila Somfalvi contributed to this report.