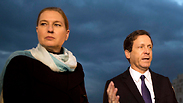 Livni and Herzog at the Western Wall
Photo: EPA
Had the 2015 elections happened today, the new joint party led by Isaac Herzog and Tzipi Livni would have gotten 22 mandates, while the Likud party led by Prime Minister Benjamin Netanyahu would've gotten 21 seats, according to a Channel 10 released on Tuesday.

The poll found that Bayit Yehudi, led by Naftali Bennett, would get 17 Knesset seats, Yesh Atid, led by Yair Lapid, would go down to 10 from the 19 it currently holds, while Avigdor Lieberman's Yisrael Beiteinu would get nine mandates.

Former Likud minister Moshe Kahlon's new party Kulanu would get 9 seats, ultra-Orthodox party United Torah Judaism would get 7, Meretz would keep its six seats, while Shas would feel the harsh blow of its separation from Eli Yishai, getting 4 seats, while Yishai's new party HaAm Itanu would also get four.

The leading Arab party is UAL-Ta'al, led by Ahmed Tibi, which would get six seats. Hadash, led by Mohammad Barakeh, would get five, and Hanin Zoabi's party Balad wouldn't pass the threshold.

When asked who they preferred as prime minister, 38 percent of respondents replied Netanyahu, while 32 percent said Herzog.

The poll also asked which candidate was better equipped to deal with security threats. Thirty percent said Netanyahu, 22 percent thought Lieberman would be better suited, close behind was Herzog with 21 percent, and Bennett with 18 percent.

On economy issues, 33 percent thought Kahlon was best suited, followed by 22 percent for Herzog. Netanyahu, who served as finance minister in the past, only got 15 percent, as did recently-fired finance minister Lapid.