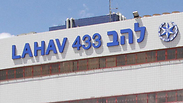 Anti-fraud unit Lahav 443
Photo: Ido Erez
Yisrael Beiteinu is at the center of a massive corruption scandal involving 30 serving and former public officials which was cleared for publication Wednesday.
At the heart of the investigation is Yisrael Beiteinu's Faina Kirschenbaum, Israel's deputy interior minister. The party was quick to back her, saying "like every election since Yisrael Beiteinu was established in 1999, the police cannot pass up on conducting highly-publicized arrests and investigations into the party's people."
Kirchenbaum said she didn't know why she was being questioned. "I have no idea what for," she said. "I regret that things were published in this way."
Law enforcement officials said the corruption scandal cleared for publication today is one of the most severe in Israel's history. After a yearlong covert operation, police said they are investigating 30 suspects including the deputy minister, a former minister, mayors and others.
Following Yisrael Beiteinu's claim that the decision to go public with suspicion of party corruption was politically motivated, Police Commissioner Yohanan Danino said he rejected "the unfounded claims and accusations against those involved. Israeli police has shown over the year that it has done and will continue to do everything it can to fight public corruption in any way and means at its disposal."
The party, which has seen a number of high-profile investigations, including one into chairman Avigdor Lieberman, said that "if the investigation had been made public before the announcement of elections, then one could still think it had substance, but the fact that this was done, again, during an election campaign indicates ulterior motives. Like in previous cases, nothing will come of it."
According to sources close to the investigation, Attorney General Yehuda Weinstein decided to make the investigation public in light of the looming elections. "There was a desire to prevent a situation in which the public unknowingly votes for politicians being investigated for criminal offenses."
Police spokesperson Luba Samri said the year-long investigation made public on Wednesday "raised suspicions that the suspects collaborated ... to further their own private and public interests to procure funds ... in a manner that fundamentally damaged proper conduct".
News of the investigation came as Israel gears up for a March 17 election in which Netanyahu is seeking a fourth term.
The group of suspects, which the police said numbered more than 30, was suspected of cronyism and illicitly transferring funds to NGO and includes in addition the senior politician, a former minister, local council leaders, the director-general of a governmental office, as well as the CEOs of a number of NGOs, political activists and union leaders.
Some of the investigation's details, like the suspects' names, were still under gag order.
According to suspicions, the senior politician transferred funds illegally to a certain NGO and worked to place friends and affiliates in key positions.
Gilad Morag and Reuters contributed to this report