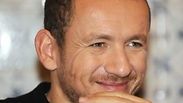 He may be the most successful comic actor/director in France, but Dany Boon feels most at home in Israel of all places.
"I've been to Israel five or six times already; my entire family is here," says Boon, who was born Daniel Hamidou to an Algerian father and French Catholic mother, but converted to Judaism a few years ago following his marriage to his Israeli wife, Yael.
And quite a few Hebrew words roll off his tongue during his press conference in Tel Aviv to promote his new film, Supercondriaque, which premieres in Israel on Thursday.
Boon was responsible for France's biggest-ever box office hit, the 2008 blockbuster, Bienvenue chez les Ch'tis (Welcome to the Sticks). More than 20 million French moviegoers who saw the film and were kept in stitches turned Boon into an overnight sensation and the unexpected heir to Louis de Funès.
Asked whether his relatively new status as a Jew has led to any anti-Semitic experiences in France, he replies: "Of course, and that's how learned that my conversion was successful. For example, French journalists asked me, seemingly innocently, if being a Jew has made me richer now.
"I respond to them with humor: First of all, just so you know, I was rich and loved money when I was a Catholic too. Secondly, you may be pleased to learn that I know quite a few poor Jews too. To get offended and make a scene would only serve them. So yes, anti-Semitism in France is on the rise. The 21st century certainly hasn't started well."
Boon is back now with a new comedy (a huge success in France, of course); and just like in his other films, he plays the part of an annoying hypochondriac who drives his doctor (played by comic actor Kad Merad, Boon's regular sidekick) crazy – and from there, things get more and more outrageous and absurd in keeping with true French farce.
"No, I don't think hypochondria is a Jewish thing," Boon says when asked if he's been influenced by Jewish humor in the style of Woody Allen, a certified hypochondriac himself.
"I want to make universal films about issues that concern us all as human beings. Because I'm a hypochondriac myself after all."