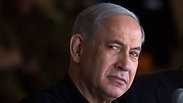 Out of the race?
Photo: EPA
The Likud comptroller has disqualified Prime Minister Benjamin Netanyahu from running in the party's internal primaries ahead of the general election, citing illegal use of party resources.
If the move stands, Netanyahu will not be able to contend for the premiership. In response, the party's election committee said the comptroller overstepped his mandate and is not authorized to make such a decision. It is unclear if the comptroller can indeed bar Netanyahu from running pending a legal investgiation.
The comptroller, Shay Galilee, penned a scathing report published last week, in which he claimed Netanyahu abused Likud party funds, facilities and manpower to advance his bid for the party's leadership
The report said Netanyahu's actions were illegal: "Using party members and workers to promote the campaign of a party primaries nominee (Netanyahu) is 'misuse' of the party and is a form of 'benefit' or 'illegal contribution'."
According to the report, Netanyahu used party members and the party's Metzudat Ze'ev headquarters in Tel Aviv to promote his candidacy for the Likud chairmanship. Among the central claims was that Netanyahu used the party office to promote his campaign and hold a meeting for his supporters.
The report also claimed Netanyahu used party employees to attain the required number of signatures to launch his nomination in the primaries race. He also reportedly used party workers to sway Likud central committee voters.
In response to the allegations, Netanyahu's primaries campaign committee said Netanyahu had not broken any party law and said the claims were "bizarre, outlandish and baseless." They further attempted to undermine the report's credibility, saying it was "political" and backed by strong "interests".
Sources close to Netanyahu responded to the allegations regarding the use of party workers, saying "they were used for a general Likud event which dealt with the pirmaries' proceedings and not with (Netanyahu's) campaign. The two workers are non-paid workers and as such they are allowed to do political work. "