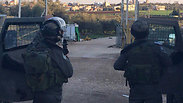 Border Guard officers
Photo: Israel Police
Israeli security forces stopped four Palestinians carrying pipe bombs on Wednesday at a checkpoint near Jenin. Additional forces were deployed to the scene, including a sapper to neutralize the explosive devices.

At approximately 3 pm, soldiers heard an explosion near the security checkpoint and identified four suspects upon arriving at the location. They performed the procedure for arresting suspects – discovering pipe bombs hidden under their clothes.

Border Guard arrests 4 Palestinians (צילום: דוברות המשטרה)

During the initial investigation on the ground, the suspects confessed to intending to commit an attack against security personnel. The four Jenin residents were transferred for additional investigation by the Shin Bet.

A Border Guard company commander, Superintendent Benny Zakai, praised the officers for "being alert and responding quickly" to prevent the attack. "We maintain a high level of operational preparation, knowing that these types of incidents could happen anytime and anywhere."

Roi Yanovsky contributed to this report.