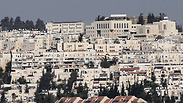 The Ramot neighborhood in East Jerusalem recieves permission for more construction.
Photo: AFP
Israeli authorities gave final approval on Wednesday for the construction of 380 new housing units in two areas of annexed East Jerusalem, a local official said.

"The municipal commission has given construction permits for 307 homes in Ramot and 73 in Har Homa," Yosef Pepe Alalu, a Jerusalem city councelor with the opposition Meretz party, told AFP.

He said local officials were taking advantage of attention focused on Israeli elections due in March to expand settlements.

"This kind of decision distances us from any chance of reaching an agreement with the Palestinians," he said.

Despite repeated warnings from Washington that it is fuelling tensions, Israel has approved a series of plans for new settler homes in east Jerusalem in recent months.

Israel seized East Jerusalem during the 1967 Six-Day War and later annexed it in a move never recognized by the international community.

It refers to the entire city of Jerusalem as its "united, undivided capital", and does not view construction there as settlement activity.

The Palestinians want the city's eastern sector as capital of a future state and vehemently oppose any Israeli attempt to expand construction there.

Tensions between Israelis and Palestinians have boiled over in recent months with frequent clashes between security forces and stone-throwing protesters, and a series of deadly "lone wolf" attacks on Israeli civilians.

Foreign Minister Avigdor Lieberman insisted last month that Israel would never consider the building of Jewish settlements in Jerusalem as "settlement activity".