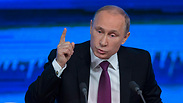 Russia to host peace talks between Syrian government and rebel factions.
Photo: AP
Peace talks between the Syrian government and the opposition could be held in Moscow next month, Russia's Foreign Ministry said Thursday.

The talks are set to take place sometime after January 20th, ministry spokesman Alexander Lukashevich said at a briefing.

The first stage of the talks will bring together representatives of home-based and foreign opposition, and representatives of the Syrian government would join them in the next stage.

Russia, which has staunchly backed Syrian President Bashar Assad throughout the nation's civil war, recently offered to host peace talks between the government and the mainstream opposition without preconditions. The effort could help Moscow raise its international profile amid tensions with the West over Ukraine.

Deep into its fourth year of conflict, Syria looks less and less like a state than a patchwork of warring fiefdoms, making outside powers more reluctant to intervene even as it becomes more destabilizing for the region.

The United States finally entered Syria's war this year, three years after President Barack Obama said Bashar al-Assad must leave power. But it did so only reluctantly, to staunch advances by Islamic State fighters in neighboring Iraq, and without challenging Assad.

With over 200,000 now dead and millions displaced, Syria's disintegration may worsen even further due to the surprising drop in oil prices in December. Added economic pressure may make it tougher for any faction to gain a decisive advantage.

Attempts to find a "political solution" which international powers say is the only way forward - possibly in the form of a settlement between Assad and his opponents - have gone nowhere.

Now it is not even clear who would be party to any future solution. The strongest anti-Assad forces are mainly hardline Islamists such as Islamic State, also known as ISIS, and al-Qaeda's Syrian affiliate, the Nusra Front, who are as abhorrent to the West as they are to Assad's backers Russia and Iran.

Many analysts say Western powers and even staunch regional Assad opponents such as Saudi Arabia now see the war's dominant factions as groups they cannot support, limiting their options.

"The idea of the opposition has evaporated for Saudi Arabia," said Nasser Qandil, a Lebanese newspaper editor and former lawmaker with good relations with Damascus. "They know that the option is ISIS and Nusra or the regime. There's no third option."

Instead, he says, many regional players, and perhaps even Western powers, are choosing what he called a strategy of "retreat" - essentially leaving Syria's combatants to fight it out on their own.

Washington says supporting Assad's "moderate" opponents is part of its strategy. But by bombing Islamic State positions daily and carrying out a handful of strikes against Nusra Front, it has freed Assad's air force to hit other opponents elsewhere.

The opposition forces that Western powers have half-heartedly supported are now splintered into hundreds of groups, many with competing ideologies and interests.

Kurdish militias in the northeast have fought against Islamic State in coordination with the US-led coalition - as in the more than three-month battle for the border town of Kobani - but play little role outside their ethnic enclave.

Pro-Assad militias are also playing a larger role in the conflict than ever before.

"More and more warlords are rising in Syria, who are becoming difficult for the regime to control, which of course adds pressure on the Assad regime," said Lina Khatib, director of the Carnegie Middle East Center in Beirut.

"I think basically 2015 will be total chaos for Syria."
Fractious Militias
Many analysts say US air strikes against Islamic State will do little more than contain the group, which has thoroughly embedded itself in the parts of Syria it controls.

Some "moderate" or non-jihadist rebels appear to be pinning hopes to the idea that US military action could be turned against Assad - perhaps at the urging of regional allies Turkey and Saudi Arabia, both staunch Assad opponents.

Obama's administration is planning to carry out a multi-year program to train and equip "moderate" rebels and field local forces.

Turkey also wants the United States to set up a "buffer zone" along the Syrian-Turkish border to protect moderate rebels, although US officials have played down the idea.

Even with a safe zone, it would take far more resources than the United States has committed to "take a handful of fractious militias that own maybe 1 or 2 percent of Syria and turn them into the conquerors of the entire land," said Joshua Landis, an expert on Syria at the University of Oklahoma.

He pointed to the hundreds of billions of dollars and years of military occupation the United States spent in Iraq, where the government is still struggling.

"Nobody's going to do that for Syria ... All sides, all these proxy armies in Syria - their supporters are willing to spend enough money so that they don't lose and not enough money that they can win," Landis said.
Unresolved Issues
The sharp drop in oil prices this year could put pressure on Assad's main backers, Iran and Russia, although it is unlikely they would halt support altogether. And the price decline may also affect Assad's opponents, many of whom draw support from oil-rich Gulf Arab countries.

But the fate of Assad himself seems no closer to being resolved. The leader has hung on far longer than many observers predicted when the revolt broke out and shows no sign of leaving power. Even if Assad were to lose favor with his foreign backers, they would struggle to find an alternative.

The United Nations peace envoy to Syria, Staffan de Mistura - who took the position after two earlier envoys quit in frustration - seems to acknowledge the impracticality of finding a broad solution for Syria's conflict at this stage.

Instead of a grand bargain, he has focused instead on brokering "freeze zones," or local truces, in the northern city of Aleppo, a plan which seems to acknowledge the reality of a country divided between hundreds of local factions.

In the meantime, Syria's disintegration continues, a process that seems to benefit one player above all: the Islamic State group, which has proven adept at setting up administrative structures to fill the chaotic vacuum left by the war.

An op-ed in the pan-Arab daily al-Hayat put it bluntly: "Of all the forces fighting in Syria and for it, only ISIS has a clearly defined strategy for the present and future."