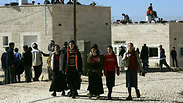 Amona (archive)
Photo: AFP
The High Court of Justice has ruled that Israel must evacuate and dismantle the of Amona, the largest illegal outpost in the West Bank's Binyamin Region Council, within two years and work to find alternative housing for the settlers currently living there.

The move joins a long list of such demands by the court, followed by countless requests to postpone its enactment by the state, all of which have been accepted by the court.

Residents slammed the move, with one telling Ynet that "We think the court made a serious mistake with the ruling, but moreover, it proves how disconnected it is from the people and the Zionist vision which most Israelis support," one settler told Ynet.

However, human rights and anti-settlement organizations have been battling the outpost for years, claiming it was built on land illegally taken from Palestinians.

Located on a hilltop near the settlement of Ofra, Amona, which was established in 1995, is one of the oldest outposts in the West Bank and is home to approximately 50 Orthodox Jewish families, numbering roughly 300 people, some 200 of which are children.

Palestinian landowners from Silwad and other nearby towns have been petitioning against the outpost in the courts for the past eight years and in the past some of its structures were demolished amid violent protests by settlers.

In 2006, the court ruled the outpost illegal and demolished nine of the outpost's buildings, which led to violent clashes between riot police and thousands of protestors. In 2008, Palestinian owners, assisted by human rights organization Yesh Din, petitioned for ownership of the outpost. The HCJ ruled in favor of the landowners and issued evacuation orders which have since been repeatedly delayed over residents' claims of land purchase.

But Yesh Din says the claims of purchase are false at best and, if accurate, represent only percentages of four of Amona's approximately 20 to 25 plots.

The State was initially supposed to evict Amona, which was built on privately owned land, by the end of 2012, but in November 2012, Justices Asher Grunis, Esther Hayut and Hanan Melcer granted the request and gave a new deadline for the eviction – April 30, 2013.

However, come March 2013, the State motioned the High Court of Justice for postponement of the eviction. The High Court justices who approved the deferment noted they were granting postponement in the case of the Amona outpost for the last time.