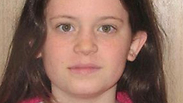 Ayala Shapira remains in serious condition after suffering 3rd degree burns.
Photo: Courtesy of the family
The condition of Ayala Shapira, the 11-year-old Jewish-Israeli girl who was seriously wounded after aMolotov cocktail was thrown at her and her father while they were driving home on Thursday afternoon in Nablus, continues to be serious.

A slight improvement in Ayala's breathing and heart functioning was noted overnight, however she is still sedated and on a respirator.

Defense Minister Moshe Yaalon payed a visit to Ayala's father, Avner Shapira, who was also wounded in the attack. Avner dished out criticism during the visit, and said to Yaalon: "The IDF conducts wasteful operations like Operation Protective Edge, but in this case they are calling the terrorists 'criminals.'"

"What matters to me is not the terrorists, but rather who sent them," continued Avner.

IDF forces arrested 12 wanted Palestinians on Friday morning in the town of Azzoun near Qalqilya – the same area where the Molotov cocktail was thrown at the Shapira's the night before. The suspects were taken into further questioning by the Shin Bet, who will investigate the suspicion they were involved in the attack.

Meanwhile, car tires were punctured on eight vehicles belonging to residents of the Ras al-Amud neighborhood of East Jerusalem overnight.

Back at the Sheba Medical Center, doctors continue to fight to save Ayala's life. "The burn caused damage to Ayala's upper respiratory tract and there were improvement in the measures overnight. These are signs that the body's response is good. We are taking care that she will not feel pain and are supporting her and her family. The situation is very complicated. She hears us, and we requested her parents to talk to her and stroke her in order to give her a sense of home," said Professor Gidi Paret, the Director of the Department of Pediatric Intensive Care at Sheba Medical Center.

Ayala is expected to enter surgery on Friday afternoon. "The first steps will be to clean the deep burns, especially in the neck. She also has swelling in her throat, so in order to prevent choking we will enable her to breathe from a different area," said Professor Eyal Winkler, the Director of the Plastic Surgery Department at Sheba Medical Center.

"I told her parents the struggle will be long, and the beginning consists of stabilizing her, reviving her, and getting her to a state where we can begin to reconstruct her face. In this kind of situation, hospitalization last two to three months, and facial reconstruction can lost even longer. But we are full of desire to succeed and are optimistic.

Ayala and Avner Shapira were wounded Thursday after the car in which they were traveling in the West Bank was hit by a firebomb, only a month after her mother escaped a similar attack in the same area.

Ayala was left in serious condition after suffering massive third degree burns after flames engulfed the car, which was traveling near the settlement of El Matan in the Shomron area. Her father Avner, 40, was also wounded, suffering from light burn injuries.

Roi Yanovsky and Yoav Zitun contributed to this report.