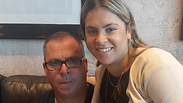 Karin and Amos Saban. 'The salary can barely cover baby formula'
Apartment rental prices in Israel have skyrocketed in the past several years, according to figures released by the Housing Ministry, as an increasing number of couples say they can't afford to pay the costs of housing. The report shows that rental prices have gone up by an average of approximately 58% from 2008 to September 2014 – considerably higher than the consumer price index. The situation is worse in Tel Aviv, where rental prices increased by 72% over the past six years.
According to the Housing Ministry's figures, the average rent for apartments in Tel Aviv was NIS 2,749 per month. The following eight years saw a moderate increase in prices, with the average rental price at NIS 3,277 per month in 2008. Since then, the price has gone up to NIS 5,643 on average per month.
Nationwide's index of apartment rental prices:
The following data refers to the average rent for apartments of all sizes:
In Tel Aviv, the rental price for a small apartment (1.5-2 rooms) is NIS 3,984 per month. Average rent for a bigger apartment (2.5-3 rooms) is NIS 4,954. Those renting a 4.5-5 room apartment pay no less than NIS 8,200 on average.
In Jerusalem, rental prices for apartment have risen more moderately, with a smaller leap of 48% in the past six years. In 2008, the average price of an apartment in the capital stood at NIS 2,688 - today it stands at approximately NIS 4,000 per month. The average rental price for a 1.5-2 room apartment in Jerusalem is NIS 2,884 per month. Rent for apartments with 3.5-4 rooms is NIS 4,510 – almost the same price as a 2-room apartment in Tel Aviv.
Udi and Romy Gal
Udi (33) and Romy (32) Gal, parents of three, live in the Kastel neighborhood of Mevasseret Tzion, a suburb of Jerusalem. Udi, who is employed in the security forces, has lived in numerous rented apartments over the past 13 years. Although the two parents are employed, they can't afford to buy an apartment. "I have been paying rent since I was 18," he says.
"We've been living in rented apartments ever since we got married in 2003, as we don't have the means to buy an apartment now. Things are very difficult today if you don't come from a home with money."
Today, the five-member family lives in a 3.5 room apartment for which they pay NIS 4,500 per month, NIS 2,500 more than the amount they paid 13 years ago. "Today, the cost of the apartment reaches NIS 6,000, if you take into account the 'Arnona' municipal tax, electricity, water and gas," he adds.
The Saban family
Amos and Aliza are worried about the future of their 29-year-old daughter Karin, who lives in Be'er Sheva in a rented apartment with her husband and two children, aged three and two months. "Things were much easier in our days," they say. "Today a simple 3-room apartment costs about NIS 750-800,000. The salary can barely cover baby formula and diapers. The children are becoming a burden to their parents. Even if they want to save up for their retirement, they can't."
When Karin and her husband got married four years ago, they moved to live with one of their parents, as they couldn't afford to rent an apartment. Today they live in a 3-room apartment, for which they pay NIS 2,200 per month. However, Karin adds, "Now that our family is expanding, we have to move and a new apartment will cost NIS 3,000 per month. We'll have to work very hard to maintain the home."
"The idea of purchasing an apartment seems like a dream. The government does not do enough to lower housing prices. It just rises and rises," Karin adds.
According to figures from Central Bureau of Statistics released in 2013, which rely on the 2012 household expenses survey data, there has been a decline in the proportion of ownership of apartments by young married couples ages 30-39 over the last 16 years.
Between 1997 and 2002 the percentage of 30-39 year olds who owned apartments decreased from 68.7% to 56.7%. As a result, there's been a rise in rental rates for that age group, from 25.2% to 37.2%. The CBS reported that this trend has been registered mostly among married couples.
The drop in share of apartment ownership among young couples contributed to the general trend of lowered real estate ownership in the population. The CBS found that from 1997 to 2012 there was a drop from 70.2% to 67.9% in the rate of ownership of at least one apartment in the overall household.