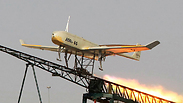 Iran's UAVs flown on first day of Army's military drills
Photo: AP
Iran's army has deployed a suicide drone for the first time in massive ongoing military drills near the strategic Strait of Hormuz at the entrance to the Persian Gulf.
Gen. Ahmad Reza Pourdastan, the army's chief commander of ground forces, described the unmanned aircraft as a "mobile bomb," according to state media, which said the aerial device is designed to strike air, ground and naval targets.
He did not provide the name of the drone. The conservative Kayhan daily referred to it as the Yasir, while an online news website called it the Raad. Officials could not be reached for comment.
The Yasir drone, first unveiled last year, can fly for up to 10 hours and carry out 360-degree imaging, officials said at the time. Western military analysts say the Yasir is a modified version of the American ScanEagle drone. Iran said in December 2012 that it had seized at least three Boeing-designed ScanEagle drones after they allegedly violated its airspace over the Persian Gulf.
Iran is believed to have produced its own remotely piloted suicide drone, the Raad-85, which is designed to crash into targets and set off its warhead.
The six-day military exercise is being carried out over 527,000 square kilometers (850,000 square miles) in the northern part of the Indian Ocean, Sea of Oman and the eastern part of the Persian Gulf, through which one-fifth of the world's oil supply passes.
The exercise, dubbed Mohammad Rasoulallah (Mohammad, the Messenger of God) involved all branches of the Iranian military and will last for six days, spanning 2.2 million square kilometers, Iranian news television Press TV reported.
General Hashma Allah Malka said it was an "Important message of peace to our friendly neighbors, but also a show of force regarding our defense abilities which sends a message to our enemies."
As part of what Iranian media are calling a massive show of force, the army will maneuver from the Strait of Hormuz in the Persian Gulf all the way to the Gulf of Aden and even the parts of the Indian ocean. According to different reports, the Iranian Navy will be testing warships and submarines.
Iran's navy has boosted its international presence over the past few years, in particular to help guard commercial vessels in the Gulf of Aden from pirate attacks.