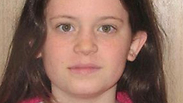 Ayala Shapira suffered 3rd-degree burns
Photo: Courtesy of the family
The Shin Bet has arrested two Palestinians from the West Bank for their role in a terror attack which left a 11-year-old girl with massive 3rd degree burns and saw her father injured on Thursday.

The Shin Bet said in a statement they arrested two Palestinians from the village of Azzoun in the West Bank, not far from the settlement of El Matan, the scene of the attack. One of the two was a 16-year-old boy and both confessed to leaving the village and throwing a firebomb at a car carrying 11-year-old Ayala Shapira and her father Avner.

IDF makes the arrests. (Video: IDF) (צילום: דובר צה"ל)

The news was cleared for publication Saturday evening, but according to the internal security service the arrests were made hours after the attack, and others were taken in for questioning.

The two confessed to the allegation and told the Shin Bet they left their village with the intent of attacking Israeli cars with firebombs.

According to their interrogation, the two hid on the side of the road leading to El Matan. After spotting approaching cars, they lit the Molotov cocktail and threw it at one of the vehicles. The car then caught fire, causing 3rd degree burns on Ayala's face and upper torso as she attempted to flee the burning vehicle. Her father sustained light to moderate injuries.

The two terrorists then fled the scene back to their village. Hours later, following a massive intelligence operation, the Shin Bet and IDF forces found them and took them into questioning.

Ayala was admitted to Sheba Medical Center, where doctors have been fighting to keep her alive. "There are signs that the body's response is good," said Professor Gidi Paret, the Director of the Department of Pediatric Intensive Care at the hospital, on Friday. "The situation is very complicated. She hears us, and we requested her parents to talk to her and stroke her in order to give her a sense of home,"

"I told her parents the struggle will be long, and the beginning consists of stabilizing her, reviving her, and getting her to a state where we can begin to reconstruct her face," said Professor Eyal Winkler, the Director of the Plastic Surgery Department at Sheba Medical Center.

"In this kind of situation, hospitalization last two to three months, and facial reconstruction can lost even longer. But we are full of desire to succeed and are optimistic," the Winkler added.