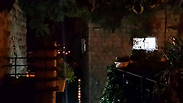 Scene of attack
Photo: Roy Yanovsky
A firebomb was thrown Saturday night at an apartment balcony in the Armon HaNetziv (East Talpiot) neighborhood of Jerusalem. A fire broke out on the balcony, but was extinguished shortly thereafter. No one was hurt, but the balcony was lightly damaged. The incident came after Thursday's firebombing of a car that left an 11-year-old girl seriously wounded with 3rd degree burns.
Fire and Rescue Services arrived at the scene, as did police and border patrol units, who began searching nearby Jabel Mukaber in an attempt to locate the attackers.
Marcel Kornicher, a resident in the building for some ten years, said he and his wife were sitting in the living room when the incident occurred.
"My wife suddenly saw fire, and we had no idea why," he said. "We heard a bang, which really frightened and shocked us. The bottle did not penetrate the apartment, so by a miracle nothing happened. If it had gotten into our place, it could have set the house on fire. We saw what kind of damage it could do last week.
"I went to a neighbor downstairs. She was in shock, and I saw the actual firebomb. Police and firefighters arrived, and fortunately there was nothing left for them to do. It's especially shocking for old people like us.
He said stones had been thrown at the building more than once from Jabel Mukaber, Two months ago, a firework was tossed at the house.
Meir Nakar St. in the Armon HaNetziv (East Talpiot) neighborhood is directly adjacent to Jabel Mukaber, a Palestinian neighborhood which has been scene to numerous incidents of stone throwing and even firebomb attacks.
Jerusalem firefighter services note that this is not the first time that a firebomb has been thrown at residential homes in the area and the adjacent Abu Tur neighborhood.
Roy Ben Ezra, a firefighter, told Ynet that "we were alerted to the scene to deal with a fire on a residential balcony. When we arrived the fire had already died out and all we had to do was clear the area from smoke and some smolder that had remained.
"Luckily, the event ended without injuries, because last week's events have shown us what a firebomb can do," he concluded, referencing the West Bank terror attack which saw 11-year-old Ayala Shapira sustained third degree burns on over 30 percent of her face and upper torso.
Earlier Saturday, the Shin Bet announced it had arrested two Palestinians from the West Bank for their role in the terror attack on the car, which took place near the settlement of El Matan in the Shomron region of the West Bank.
The Shin Bet said in a statement they arrested two Palestinians from the village of Azzoun in the West Bank, not far from El Matan. One of the two was a 16-year-old boy and both confessed to leaving the village and throwing a firebomb at a car carrying 11-year-old Ayala Shapira and her father Avner.
Two Border Guard officers were stabbed near the Lions' Gate of the Old City in Jerusalem early Friday morning. A 19-year-old border policeman was stabbed in the neck and a 35-year-old officer was stabbed in his hand.
On Wednesday IDF shot and killed a member of Hamas' armed wing in the Gaza Strip after an IDF soldier was wounded by a Gazan sniper. Recent months have seen an upsurge in violent confrontations in the West Bank and of attacks by Palestinians inside Israel.