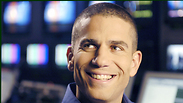 Yinon Magal to join Bayit Yehdu
Photo: Yossi Tzveker
The journalist and news anchor Yinon Magal announced Sunday he is leaving his position as news editor for the Israeli news site Walla! and will join the rightwing Bayit Yehudi party. Magal, 45, is not expected to contend in the party's primaries and will likely enjoy a reserved spot on the party ticket.

The news was first reported on Israel's Channel 10 News and confirmed Sunday morning after Magal posted a campaign video together with party chairman Naftali Bennett.

"I am not ashamed to love the land of Israel, the people of Israel or Israel's Torah – the Bayit Yehudi (Jewish Home) is my home," he said in the video.

During the summer's Operation Protective Edge, while leading Walla!'s news desk, Magal raised some eyebrows for leading what some described as an overly nationalistic line and his aggressive interview style, especially against those with whom he disagreed. For others, he was a breath of fresh air in Israel's generally left-leaning media.

"The Bayit Yehudi is the natural place for all those who feel the state's Jewish identity burring within them," party chairman Bennett said in the video with Magal, welcoming him to the predominantly religious party.

"Yinon will give the Bayit Yehudi party strength and will represent a growing sector of the party's voters whom identify with the values of the religious-Zionist movement," Bennett said, in a clear attempt to both woo secular voters and appease the religious flank of his party.

Magal is leaving his position as editor of Walla! news and its main anchor. In the past he served as Channel 10's military correspondent and the anchor for Channel 1's news magazine Mabat.