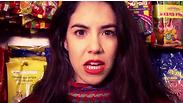 Art between the food shelves
Jerusalem's annual winter festival, "Hamshushalayim," which takes place over four consecutive weekends, includes an unusual exhibition displayed among supermarket shelves.

The exhibition, "Mivtza" ("sale" in Hebrew), is a unique project which seeks to examine the meeting between modern art and a familiar daily space – where food, cleaning products and personal care products, sold according to unit and weight, allow us to sustain our routine life.

The exhibition features sculptures, videos, photographs and paintings of leading artists in the art scene which have been displayed among the supermarket's shelves and different sections.

The exhibition's curators are Sharon Balaban, a video artist and head of the video unit at the Bezalel Academy's Screen Based Arts Department, Noa Shakargy, Guy Biran and Gilad Meiri.

"Mivtza" features a direct meeting between the world of art and the supermarket, which serves as an American model which has been controlling the consumer culture for the past decade.

The exhibition is displayed in the supermarket opposite the Jerusalem Foundation's Artists' Studios on 17 Haoman Street in the Talpiot neighborhood. Apart from the exhibition, several multidisciplinary performances will be held in the venue every evening.