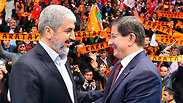 Davutoglu with Hamas leader Mashal
Photo: Reuters
Turkish Prime Minister Ahmet Davutoglu said Sunday that Turkey stands behind Palestinians in their efforts to oppose what he called Israeli attempts to "reduce the Islamic character" of Jerusalem.

Davutoglu was speaking to reporters in the central Turkish city of Konya, a day after meeting with exiled Hamas chief Khaled Mashal.

Violent demonstrations led Israel in November to briefly restrict Muslim access to a holy site in Jerusalem that includes the Al-Aqsa Mosque, Islam's third most sacred place, and the ancient Hebrew Temple Mount, the holiest place in Judaism.

The move fueled accusations that Israel was secretly plotting to take over the site, despite Israeli denials.

"The Palestinians ... have a common stance. We back this stance against the reduction or the elimination of Jerusalem's Islamic character," Davutoglu said.

"Turkey will not accept any impositions concerning Al-Aqsa and will do whatever needs to be done internationally to protect Jerusalem and Al-Aqsa Mosque."

Turkey is a strong backer of the Palestinian cause. Relations between former allies Turkey and Israel broke down in 2010 after an Israeli naval raid on a Gaza-bound flotilla killed nine Turkish citizens. Turkey has become the strongest critic of Israeli actions in Gaza, and reconciliation efforts between the two have repeatedly failed.

Mashal, a frequent visitor to Turkey, on Saturday accompanied Davutoglu to a regional congress of Turkey's ruling party in Konya, where he addressed delegates, and said that a "strong Turkey" means a "strong Palestine."

Davutoglu said Sunday that Palestinian President Mahmoud Abbas would also visit Turkey next month.