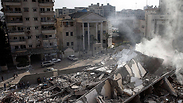 Ruins of a house in Gaza during the war.
Photo: AFP
The military's Criminal Investigations Division (CID) has begun over the last two weeks to probe numerous IDF officers suspected of criminal offenses that led to the deaths of scores of non-combatant Palestinians during Operation Protective Edge.
The CID has been investigating junior officers, in both active duty and the reserves, who fought in the operation, with ranks of captain and major.
Two weeks ago, Danny Efroni, the military advocate general, decided to expand investigations into IDF officers regarding a series of incidents in which 50 Palestinians were killed.
A source familiar with the investigation told Ynet that military police collected different pieces of evidence that bolster suspicions against the officers. The source said the probe was likely to expand over the next two weeks, and could include officers with more senior ranks being called in for questioning.
The most potentially controversial issue that reached Efroni's desk regarded the events of August 1 in Rafah, which included the aggressive pursuit by Givati soldiers of Lt. Hadar Goldin's kidnappers. Scores of Palestinians were killed that day, and hundreds wounded. Investigators assigned a special team to the case. Efroni has been tasked with deciding whether to open an investigation into Givati leaders, including Col. Ofer Winter, Lt. Col. Eli Gino, and company commanders.
Commanders told Ynet in an interview two months ago that their consciences were clear and that they acted according to their training. They claimed that the response to the kidnapping was not an overreaction. Chief of Staff Benny Gantz told Ynet two months ago that in all the incidents that had been investigated, there was no malicious intent found on the part of commanders.
The various offenses that officers could be charged with included negligent manslaughter, exceeding authority to the point of risking life, negligence, and failure to comply with orders.
Ynet also learned that some of the officers under investigation were connected to the July incident in which over a dozen Palestinians died when coordination problems led to an order to fire at a UNRWA school.
Additional cases under investigation were the deaths of four children at a fishing beach near Gaza's port, and the deaths of two ambulance drivers.
Associates of one officer under investigation told Ynet that "he gave all of himself for the success of his mission while risking his life, and is certain of his innocence. It doesn't make sense to sacrifice soldiers or junior officers on the Schabas Committee's altar of international legitimacy, and not touch the senior commanders. He only followed the orders he got and acted according to his best judgment."