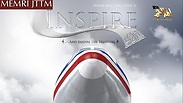 In the latest issue of its Yemen affiliate's magazine, al-Qaeda called on "lone-wolf" terrorists to attack planes, providing them with a series of recommendations on how to pick a fitting target.

The Christmas Eve release of Inspire, the English-language magazine published by al-Qaeda in the Arabian Peninsula, its cover graced by a passenger jet, urges the rise of a new generation of "lone-wolf" terrorists to bomb the planes of Western airlines using homemade bombs.

The cover feature includes a list of preferred targets naming US firms Delta, American Airlines, United, and the now-defunct Continental Airlines as well as European firms easyJet, Air France, and British Airways.

The author, known only by a nickname – "al-Qaeda chef" – details the characteristics of each airline and reasons for choosing it as a target. The magazine suggests British Airways because it is "the flag carrier airline of the United Kingdom. It is the largest airline in the UK based on fleet size, international flights and international destinations. The flag carrier was privatised and floated on the London Stock Exchange."

The author also offers easyJet as an ideal target because "it is a low-cost carrier, hence has a large number of passengers."

The anonymous writer, who was re-interviewed for the magazine, explained such attacks were a natural reaction to American arrogance, and said the order of preference for terror targets should be US firms, British firms, and only then French firms.

The self-proclaimed "al-Qaeda chef" praised the rise of the "lone-wolf" attacker, citing the strategic significance of operating alone. "It is hard to uncover, because none knows him but Allah. He has no relationship with any group or any individuals."

For the aspiring terrorist who prefers to stay on the ground in his attempts, the author suggests assassinating high-value American targets like former Fed chairman Ben Bernanke and tech billionaire and philanthropist Bill Gates.

The latest release marks the 13th issue of the magazine, first published in 2010, which is best known for disseminating ideas and instructions for would-be terrorists.

Previously the magazine carried the now-infamous guide: Make a Bomb in the Kitchen of Your Mom. The article was used by the Boston Marathon bombers, who murdered three people and wounded more than 250.