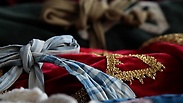 South Dakota's Jewish community is the smallest in the US and very tightly-knit
Photo: Will Tizard
The first Jews to settle in what is now South Dakota established themselves in Deadwood during the Gold Rush more than 150 years ago, finding a niche selling hardware, groceries, dry goods and more. By 1920, the state was home to some 1,300 Jews.

That community has dwindled to an estimated 390 people - less than a tenth of 1 percent of South Dakota's population. The smallest population of Jews in all of the United States. It's a small, but tightly knit flock that makes do without a permanent rabbi and worries too few children are coming along to sustain it.

"Nobody wants to be the last one to turn the lights out," said Steve Benn, a neonatal doctor who serves as lay leader at Synagogue of the Hills in Rapid City. He orchestrates bar mitzvah ceremonies, performs ritual circumcisions and conducts funeral services.

The reasons for the decline vary. Some members stationed at Ellsworth Air Force Base in western South Dakota transferred elsewhere and took their families, some doctors working on Indian reservations were eventually reassigned and other Jews simply left in search of better opportunities in more populous areas.

"Anybody that has moved here or moved away ... it's always been professionally driven as opposed to other reasons," Benn said of the Rapid City congregation, noting it's not because of any feeling of isolation.

There are two active synagogues, one in Sioux Falls and another in Rapid City. A third synagogue in Aberdeen sometimes hosts services and Torah study groups. Rapid City's synagogue was once a family home that was donated to the community by Stan Adelstein, a state senator who occasionally officiates weddings.

South Dakota is the only state without a permanent rabbi, which Benn says is due to "market forces."

"If the synagogue can afford to hire a rabbi and there's a large enough need for one, they (synagogues) make their own arrangements," he said.

South Dakota's last rabbi, Stephen Forstein, arrived in 1979 after the rabbi at the Sioux Falls synagogue died. Forstein was a part-time rabbi who also operated a lighting supply business that took him around the state.

"I'm out to sell a product, be it light bulbs or Judaism, and I make no bones about it - I'm selling Judaism," he told The Associated Press in November 1980. But Forstein moved to Michigan years later. Since then, the community has been served by lay leaders and student rabbis from Hebrew Union College in Cincinnati who travel to the state regularly.

Young Hasidic rabbinical students who are part of a global community-outreach training program known as "The Roving Rabbis" also come to the state every summer and at other times during the year, making in-home visits. Last year, they even arranged a bar mitzvah for a boy who had just turned 13.

"Some of them wait all year for when the rabbis come in the summer to ask questions about Judaism," Yosef Sharfstein, a Roving Rabbi, said during an August visit to Sioux Falls. He joked there are more Jewish people on his block in Brooklyn, New York, than in all of South Dakota.

These rabbinical students, who are associated with the Chabad-Lubavitch movement, bring kosher meat, which is not available at grocery stores in the state; some families, including Benn's, order the meat online. The students also bring kosher mezuzahs - small parchments of handwritten biblical verses, rolled into cases and fastened to door frames - that are a reminder for Jews that God is the ultimate home protection.

Benn worries that the Jewish community will continue to diminish. The Rapid City congregation has just one school-aged child. In a recent meeting, the congregation discussed whether it should follow the example of one in Dothan, Alabama, that offered as much as $50,000 to families who commit to stay at least five years.

But though it's small, the feeling of community is strong. Some travel nearly three hours to attend Friday Shabbat services in Rapid City.

In September, the congregation welcomed Sara Eiser, its new student rabbi from Hebrew Union College. She quickly identified her priority: Cultivating the Jewish faith in the congregation's only child.

"I want (the child) to be able to walk into a classroom and say 'I'm Jewish and I'm proud of it,'" Eiser said.