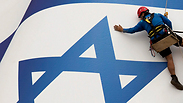 At the end of 2014, Israel's population has been estimated at around 8,296,000 residents, out of which 6,218,000 are Jews (74.9 percent of the population), 1,719,000 are Arab (20.7 percent) and 359,000 are defined as "other," the Central Bureau of Statistics (CBS) said Monday.

During 2014, some 162,000 people were added to Israel's population, a two percent increase in population, similar to the rate of population growth over the past decade.

Over the past year, some 176,000 babies were born and some 23,000 new olim arrived in Israel.

On December 31, 2013, the Israeli population was estimated at about 8,132,000 residents and exactly a year before that, at 7,981,000 residents.

Ten years ago, Israel's population was estimated at 6,862,000 residents, which means the country's population has grown in 1,434,000 residents over the past decade.