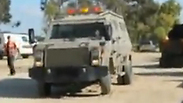 Soldiers at Gaza border
Photo: Shai Shmueli
The IDF announced on Sunday that it will withdraw its troops from communities bordering the Gaza Strip starting from Thursday, and said that soldiers will remain on guard at only three communities adjacent to the border. The decision was met by outrage among southern residents, as the government has yet to deliver on its promise made during Operation Protective Edge, according to which an advanced security fence would be build along the border.
As part of the new decision, new security measures such as electronic fences will be provided to communities located at a distance of more than one kilometer (0.621 miles) from the Gaza Strip. Soldiers will continue to protect the kibbutzim of Nahal Oz and Kerem Shalom, as well as the community of Netiv Haasara.
The army said that the decision was made "after an evaluation of the security situation, under the understanding that the protection IDF offers to residents of Gaza-border communities is optimal, and in coordination with the heads of communities."
However, local communities that will be affected by the move – the Regional Councils of Eshkol and Sha'ar HaNegev – said that the decision was made without any coordination or consultation with them. Local officials and residents said they were shocked by the decision, mainly due to the fact that work on the construction of a new fence along the border with Gaza has yet to commence.
"Unfortunately, the decision is out of touch with reality," Eshkol Regional Council leader Haim Yellin said. Ever since Operation Protective Edge ended, Yellin added, "there were 170 infiltration attempts."
Following the decision, heads of southern communities issued a joint statement: "It is urgent to construct the massive barrier along the entire Gaza Strip from the beach to Kerem Shalom. We demand that the defense minister and prime minister immediately allocate funds for this project."