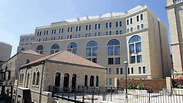 Mamilla Hotel
Photo: Amit Shabi
Jerusalem's Mamilla Hotel has been admitted into Leading Hotels of The World (LHW), a luxury hospitality consortium.

The New York-based LHW is the largest luxury hotel collection in the world, with more than 430 hotels and resorts in over 80 countries.

Attracting Tourists

Israel's capital expected to get as many as 2,000 new hotels rooms within six years. Four Seasons and W hotels are already on their way.

Its properties include grand palaces, intimate city hideaways, ancient castles, safari tent villages, and tropical destinations.

Israel is represented in the organization by two other hotels in Jerusalem: King David and American Colony.

To be considered for inclusion, a hotel must be in the luxury category. Inspection reports based on hundreds of criteria are subsequently filed with the Executive Committee, whose members then vote to accept or reject the candidate property.

The full-service hotel consortium supports sales and marketing, advertising and public relations, financial services, quality control, and hotel inspections for its member properties.

The Mamilla Hotel is located in the heart of Jerusalem, overlooking the Old City walls, the Tower of David and Jaffa Gate, and includes 194 guest rooms and suites.

Ynetnews contributed to this report.