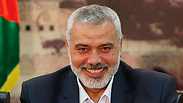 Hamas chief Haniyeh
Photo: Reuters
The Palestinian consensus government has failed to meet its commitment to rebuild the war-torn Gaza Strip, Hamas chief Ismail Haniyeh said on Monday.

Speaking after a ministerial delegation from the West Bank arrived in Gaza, Haniyeh accused the government of failing "to keep its commitments, by not carrying out reconstruction, nor unifying institutions under the Palestinian Authority nor organizing elections."

The national consensus government took office in June following a reconciliation agreement between Hamas and the Fatah movement of Palestinian president Mahmoud Abbas, ending seven years of rival administrations in the West Bank and Gaza.

Technocratic in nature, its mandate was to unify governance of the two territories and prepare for elections. It was later tasked with rebuilding Gaza after a deadly summer war with Israel.

A spate of bombings last month targeting the property of Fatah officials in Gaza prompted Prime Minister Rami Hamdallah to cancel a scheduled visit.

Haniyeh accused the government of acting selectively in a manner that was "harmful" to Gaza and said he was "not optimistic" that the current visit would manage to get things "back on track."

"Unfortunately, the government has not managed to prove it is the government of the entire Palestinian people," said Haniyeh, the Gaza-based deputy head of Hamas's politburo.

His remarks, broadcast on Hamas's Al-Aqsa television, were made several hours after eight ministers and more than 40 other government officials from Ramallah arrived to kickstart the reconstruction of Gaza.

The massive task of rebuilding the territory, where more than 96,000 homes were damaged or destroyed leaving more than 100,000 people homeless, has hardly begun, with Palestinian officials accusing Israel of restricting the entry of crucial building supplies.

The unity government was tasked with managing the reconstruction but the process has been bogged down by infighting between Hamas and Fatah.

Diplomatic sources also say a UN-brokered mechanism agreed with Israel and the Palestinians which would facilitate the entry of construction supplies has taken longer than expected to get up and running.