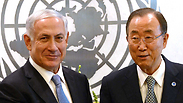 Prime Minister Benjamin Netanyahu with UN Secretary General Ban Ki-moon
Photo: GPO
The UN Security Council rejected on Tuesday a Palestinian resolution calling for peace with Israel within a year and an end to the "Israeli occupation" of Palestinian territories by late 2017.

The resolution failed to achieve the 9-votes majority required to pass. Eight countries voted in favor of the motion - China, France, Russia, Argentina, Chad, Chile, Jordan, Luxembourg - two opposed - US and Australia - and five abstained - UK, Lithuania, Nigeria, Korea, Rwanda.

US Ambassador to the UN Samantha Power said in comments after the vote that: "Instead of giving voice to the aspirations of both Palestinians and Israelis, this text addresses only one side."

Earlier on Tuesday, representatives of the Arab countries in the United Nations claimed that they have managed to secure a majority of nine votes at the UN Security Council needed to pass the resolution.

According to the Arab representatives, France and Luxemburg have been persuaded to vote in favor of the draft resolution re-submitted on Monday night, alongside seven other countries. There are 15 members in the UN Security Council - 5 permanent members and 10 changing ones.

Jordan on Tuesday circulated to the UN Security Council a draft resolution prepared by the Palestinians, who said they want it put to a vote before Thursday. Washington and London both said they could not support the draft because it was not constructive and failed to address Israel's security needs.

British UN Ambassador Mark Lyall Grant was asked by reporters whether his delegation could support the Palestinian draft.

"Well no," he said. "There's some difficulties with the text, particularly language on time scales, new language on refugees. So I think we would have some difficulties."

Lyall Grant did not explicitly threaten to use Britain's veto power to help block the Palestinian text if it is put to a vote.

All 22 Arab delegations endorsed the Palestinian draft on Monday, though Jordanian Ambassador Dina Kawar, the sole Arab representative on the 15-nation council, said she would personally have liked more time to consult on the draft.

Israel has said a Security Council vote, following the collapse in April of US-brokered talks on Palestinian statehood, would deepen the conflict. It supports negotiations but rejects third-party time lines. In a meeting with Indiana Gov. Mike Pence on Monday, Prime Minister Benjamin Netanyahu stressed that "Israel will oppose conditions that endanger our future."

"We expect the entire international community - at least the responsible members of that community - to oppose vigorously this UN diktat, this UN Security Council resolution. Because what we need always is direct negotiations and not imposed conditions," he told Pence in a meeting in Jerusalem.

The Palestinians, frustrated by the lack of progress on peace talks, have sought to internationalize the issue by seeking UN membership and recognition of statehood via membership in international organizations.

The United States, Israel's closest ally, said Monday it is opposed to the draft resolution. It has insisted on a negotiated peace agreement between Israel and the Palestinians, not an imposed timetable.

Washington, council diplomats say, has also made clear it does not want a resolution on the Israeli-Palestinian issue voted on before Israel's election in March. It will therefore not hesitate use its veto to strike down the Palestinian measure if necessary, council diplomats said.

"We don't think this resolution is constructive," State Department spokesman Jeff Rathke told a news briefing on Monday. "We think it sets arbitrary deadlines for reaching a peace agreement and for Israel's withdrawal from the West Bank, and those are more likely to curtail useful negotiations than to bring them to a successful conclusion.

"Further, we think that the resolution fails to account for Israel's legitimate security needs, and the satisfaction of those needs, of course, integral to a sustainable settlement."

Riyad Mansour, the Palestinian UN ambassador, told reporters who asked why the Palestinians were pressing for a vote in the face of a US veto that it was time for the Security Council "to shoulder its responsibility and to adopt this resolution."

"If one party decides for whatever reason that they do not want to go along with this massive support by the international community to find a just solution to this conflict, to try to save the two-state solution by asking for the end of the occupation that started in 1967 ... then nobody should blame us as Arabs and Palestinians and Muslims ... and so many others for not opening a door - a responsible door for peace through the Security Council," Mansour said.

The draft resolution affirms the urgent need to achieve "a just, lasting and comprehensive peaceful solution" to the decades-old Palestinian-Israeli conflict within 12 months and sets a Dec. 31, 2017 deadline for "Israel's occupation" to end. It calls for an independent state of Palestine to be established within 1967 borders, with East Jerusalem as its capital, and demands "a just solution" to all other outstanding issues including Palestinian refugees, prisoners in Israeli jails, and water.

The Palestinians initially circulated a draft resolution on Oct. 1 asking the council to set a deadline of November 2016 for an Israeli withdrawal from all Palestinian territory captured since 1967.

France had been working for a UN resolution aimed at restarting Israeli-Palestinian peace negotiations, setting a two-year deadline for success. Diplomats said France was seeking negotiations on the latest draft resolution in the Security Council, but that idea was rejected by the Arab group.

The Associated Press contributed to this report.