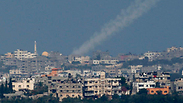 The 2014 Israel defense wrap-up.
Photo: Reuters
Few would dispute that 2014 was Israel's most trying year in nearly a decade, culminating in a political firestorm that resulted in new elections that leave many doubting either a secure or peaceful future.

However, as has occurred so often in Israel's past, it was the national issue of security that dominated the headlines of 2014 and that drove the political apparatus to the brink.
During the latest clash with Hamas in Gaza, the world mourned the deaths of 71 Israelis and on Thai citizen and anywhere from 2100 - 2200 Palestinians, including both Hamas militants and civilians, according to estimates. Hamas surprised intelligence officials with new capabilities and bombarded Tel Aviv daily - for the first time ever.

But 2014 was comprised of other defense related incidents that inspired fierce debate and tough action, something that will no doubt contribute to Israel's future mindset on the matters of security, humanity and what goals to keep in mind for 2015.
Relative calm
The year began with what may be considered an optimistic air. A renewed effort at peace negotiations had been launched by American diplomats, rockets from Gaza were few and far in between and Syria's Civil War remained distant from Israel's borders.

Namely, Ynetnews reported in January that Hamas was clamping down on other extremist factions who they felt threatened the status quo of calm.

However, in the same month Israel also allegedly launched a strike against a weapons cache in the Syrian port of Latakia while the Shin Bet successfully thwarted an al-Qeada plot to attack US targets in Israel.

Disturbing reports also emerged in the beginning of the year that Hamas was working feverishly on advanced infrastructure projects in the Gaza Strip including long-range rockets and underground tunnels in preparation for a new war with Israel.

The worrisome signs of a busy enemy portended an explosion of military conflict that would reach a breaking point later in the year.

Israel was also challenged on a new security front in April when hackers targeted Israeli websites, briefly shutting down the Post Office and Education Ministry's websites.

Additionally, a senior police official, Baruch Mizrahi, was killed in a terror attack near Hebron on Passover eve.
Israel's Protective Edge
By June, the peace process had resulted in frustration and anger as temperatures in Israel were climbing toward a year-long high. Eyal Yifrach, Naftali Frenkel and Gil-Ad Shaer were kidnapped on June 12, sparking an 18-day manhunt that ended with the Israeli nation in mourning.

Some 800 Palestinians were arrested for questioning during the search dubbed "Operation Brother's Keeper" and tensions flared in the West Bank and Gaza as it was suspected by some that Israeli authorities knew that the three boys were dead before ever finding their bodies.

Israel's missile defense system Iron Dome leapt into action during Brother's Keeper, shooting down several rockets fired from Gaza into southern Israel, sparking retaliation from the IAF.

Operation Protective Edge was announced on July 7 following a dramatic increase in rocket fire from Hamas in Gaza reaching up to 70 rockets fired on the same day.

The operation was expanded on July 17 as the fully mobilized IDF sent combat ground troops into the enclave of Gaza with the stated goal of destroying the infrastructure Hamas had been amassing - namely the tunnels through which Hamas militants infiltrated Israel's borders on several different occasions throughout the 50-day war.

Hamas went on to surprise Israel's security apparatus on additional fronts including the range of their rockets and their use of drones flown over Israeli territory - however ineffective they were.

The international community engaged in a full-force diplomatic effort, eventually resulting in Israeli forces pulling back from Gaza and an Egyptian brokered ceasefire on August 26.
The Syrian front
Also in August, Syria's Civil War was introduced to the Golan Heights where al-Qaeda affiliated rebels captured large swaths of territory along the Israeli border and took 84 UN personnel hostage.

The peacekeepers, from Fiji and the Philippines, were eventually released in good health, but the change in status quo in the Golan continued to haunt Israeli civilians.

In both August and September, stray mortars and anti-tank shells from fighting in Syria set off Code Red sirens in northern Israel - injuring several civilians. Additionally, a Syrian Air Force jet that had apparently crossed the border into Israeli territory by mistake was shot down.
What's Next?
The difficult reality faced by Israelis in 2014 left the population with some serious questions and concerns.

According to senior Israeli officials, Hamas is once again constructing tunnels and stockpiling rockets while using propaganda and force to consolidate control in Gaza.

The security concerns raised by violence in the West Bank after the latest war in Gaza have many worried that a third Intifada is not only possible, but imminent.

Meanwhile, the threat of a potentially nuclear Iran remains. Spillover from Syria could still claim more Israeli lives and the Islamic State group's unexpected level of success has security officials worried about recruitment of Palestinians to the cause and the possibility of attacks.

So what awaits in 2015? For the time being, focus has shifted to the political realm in which Palestinian President Mahmoud Abbas recently appealed to the UN for a resolution calling for Israel's withdrawal from the West Bank.

But the resolution was blocked, and even as political rumblings continue with elections in Israel, it seems that the status quo of Israel's defense situation is going to hold steady. Therefore, as in the past, it can be expected that there will be more trying years ahead.