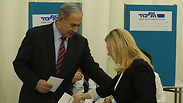 Prime Minister Netanyahu and his wife Sara vote in Likud primary elections
Photo: Gil Yohanan
It was 3:30 am on May 18, 1977 when Likud leader Menachem Begin walked into Metzudat Ze'ev, the party's headquarters in central Tel Aviv, in order to deliver the election night victory speech.

"Today is a turning point in the history of the Jewish people and the Zionist Movement, the likes of which we have not known for 46 years," he declared, after shocking the elites and political commentators and winning 43 Knesset seats with the Likud, compared to only 32 Knesset seats gained by the Labor Alignment headed by Shimon Peres.

Primary Elections

Op-ed: When Likud loses its ability to present itself as a liberal and pragmatic right-wing party, it loses its ability to govern, resulting in shaky coalitions.

"We reached this day out of full faith in democracy – aspiring to change things in our country through the ballot, and only through the ballot."

That was Begin – the biggest democrat among Israel's prime ministers in the past four decades, and the modest of them all. He never forgot, not even for a second, that his first commitment was to serve all of Israel's citizens, without making any distinction between secular and religious, Jews and Arabs, his supporters and his opponents.

The Likud's list for the next Knesset is being revealed Thursday, and we will likely not fall off our chairs – there are no surprises in store. Benjamin Netanyahu will try to win a fourth term as prime minister, and the names of the candidates on the list are extremely familiar. There are no new names, no feeling of renewal.

Unlike Begin, who managed to appeal to diverse audiences, the list led by Netanyahu marks fixation, obsolescence.

While Bayit Yehudi Chairman Naftali Bennett continues to pursue and present to the voter a pan-Israeli list, rather than a list of the old National Religious Party – in the Likud, which for several decades turned to the center of the public stage and aimed to take what we remember as the Liberal Party under its wings, Netanyahu is focusing on only one issue: The settlements.

In other words, the Likud has become a party which represents only one sector. No more talking about solving the housing crisis and an equal share of the burden. There is one direction: Judea and Samaria.

And there is another interesting phenomenon: Three of the party leaders who are trying to convince voters from the national camp to vote for them and against Netanyahu basically fled the Likud during the prime minister's term – Avigor Lieberman of Yisrael Beiteinu, Moshe Kahlon of Kulanu and Naftali Bennett of Bayit Yehudi.

If we add Gideon Sa'ar, who also walked out on Netanyahu, we'll reach the conclusion that the current prime minister failed to hold on to proven talents and offer them a place in his garden.

The polls are not predicting dazzling success for the Likud. In Netanyahu's case, we are witnessing a phenomenon which should have raised concerns in the national camp: He is fluctuating from 20 to 22 Knesset seats in the best-case scenario.

Even if we agree that these are different times, the comparison to Begin's strong Likud is inevitable.

I remember the excitement in the audience which gathered at Metzudat Ze'ev that night in 1977, when Begin asked his wife Aliza to join him on the podium for the victory moment.

"I remember the devotion of your youth, your love for me as a bride, how you followed me into the wilderness, through a land sown with mines," he said in a paraphrase of a famous verse from the Book of Jeremiah.

It wasn't "come on, Sara" and "the first lady." They stood there without hair designers, without royalty etiquette from other places – a couple which really walked the entire way, made the entire journey, together.

But even more than that, Begin taught us that a leader must take responsibility for his moves, both for his successes and for his failures. That's another thing we can only yearn for.